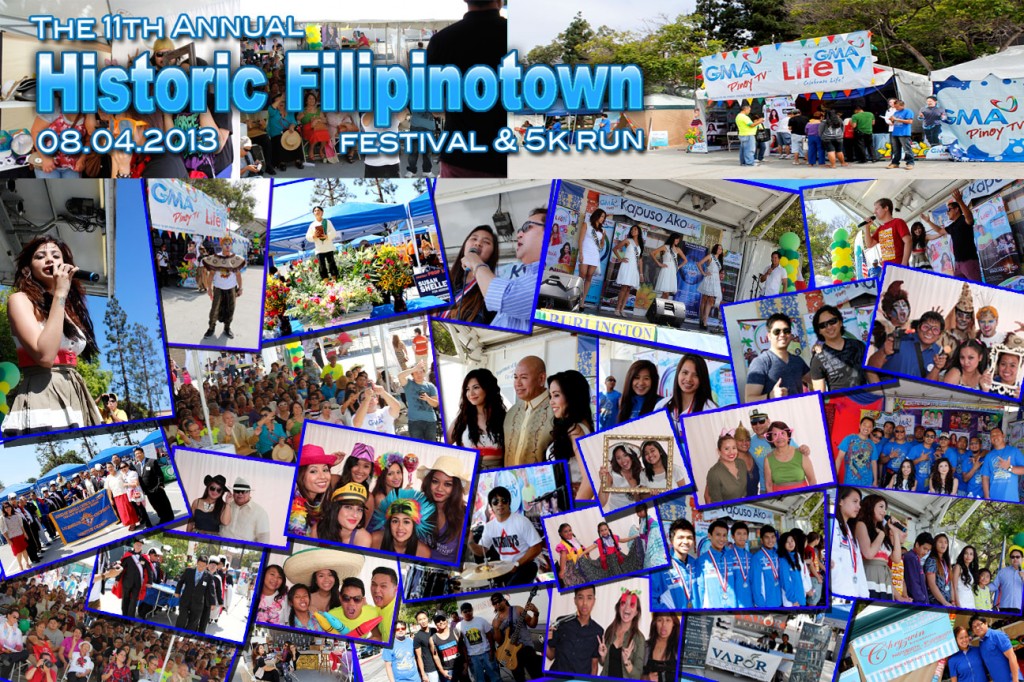 LOS ANGELES, CA (August 9, 2013) – For a Filipino, having "good health" means living a balanced life that is blessed with a healthy body, mind and spirit.  The organizers of the 11th Annual Historic Filipinotown Festival 2013 were very successful in keeping their program in line with this idea when they held the event at the Silver Lake Medical Center grounds on August 4, 2013.
The opening ceremony was headed by Consul General Maria Hellen M. barber-de la Vega, Historic Filipinotown Neighborhood Council President Cecilia Cortez Ramos, Silver Lake Medical Center representatives, the Burlington School Children and other V.I.P.'s and dignitaries.
Earlier during the day, a 5-kilometer run kicked-off the event with Councilman Mitch O'Farrell as the Grand Marshal, later on succeeded by Bayanihan Spirit Awards in honor distinguished medical professionals from the medical and dental industries.
On the spiritual side, San Pedro Calungsod was adopted as the Patron Saint of Historic Filipinotown during a liturgy service by Reverend Father John Brannigan, followed by a symbolic release of 500 balloons and a joyous performance by the Jesus is Lord Choir.   The Knights of Columbus and the El Shaddai Choir served during the holy mass.
The entertainment line-up featured the GMA Variety Show with Kapuso actess Glaiza de Castro with other GMA artists, a hit performance by Filipino rock band INTRoVOYS, Ner de Leon, Lianna Gutierrez, Claire Rodriguez, Atty. Romy Mosqueda, the SIPA crew, Folklorico, a children's fashion show by Filipino designer Lou Razon, and a presentation by the 2013 Miss Philippines USA candidates.
Various competitions were held to showcase the budding beauty and talent in the community, starting with the 2013 Search for Youth Ambassadors of Historic Filipinotown, which awarded four ambassadors based on their involvement, mission and goals for the community, namely: Camille Yuson, Erica de los Santos, Alex Leap and Aislinn Sebastian.  The awards were given by Cecilia Cortez Ramos and Leo Pandac.
The event was concluded with the Battle of the Bands which was hosted by the INTRoVOYS. New Day In August won the competition.  They received a trophy and a one-night promotional performance at Noypitz Bar & Restaurant.  The other competing bands were Pepe's Revenge and Half & Half.
The ten-hour long program was hosted by Emcees Bernardo Bernardo, Benito Miranda, Patrick Aguiliz and Lou Razon.
The event was presented by GMA Network through its international channels, GMA Pinoy TV, GMA Life TV, and GMA News TV International, in partnership with the Historic Filipinotown Neighborhood Council (HIFINC) and in cooperation with sponsors Seafood City, Silver Lake Medical Center, Toyota, Rotary Club of Historic Filipinotown, Miss Philippines USA, Noypitz Bar & Restaurant, LA-18 Kababayan Today, AKP-USA, Weekend Balita and the US Asian Post.
GMA Pinoy TV and GMA Life TV are available on CARRIERS. To subscribe, call your preferred Pay TV provider. For more details, visit the GMA International website www.gmanetwork.com/international, Facebook pages www.Facebook.com/gmapinoytv, www.Facebook.com/gmalifetv, or Twitter pages @GMAPinoyTV and @GMA_LifeTV.
The Historic Filipinotown Neighborhood Council (HIFINC), a 501(c) corporation, was founded and incorporated in 2006 with the mission to make Historic Filipinotown, more commonly known as Hi-Fi, safe for its residents.  They sponsor and spearhead events that celebrate the Filipino culture and highlight contributions that Filipino-Americans have made to the Southern California community. Visit www.historicfilipinotownneighborhoodcouncil.com for more information or call HIFINC at 818-242-2088.  Email them at historicfiltown@gmail.com.
Unlike the other Filipino festivals in the Los Angeles area, the event was open to the public with free admission and free parking.  It was hailed as the most successful Historic Filipinotown festival to date and, from beginning to finish, it remained true to its theme: "Kalusugan ay Kayamanan," which means "Health in Wealth."   (Alex Llorente)