Anticipation of the holiday season can be thrilling with all the shopping, parties and good cheer. But if procrastination kicks in somewhere between inviting the entire neighborhood for dinner and your current state of panic, don't sweat it. In fact, take it easy. Food network star Ellie Krieger to the rescue.
Krieger, registered dietitian and bestselling cookbook author of "So Easy," created the Take It Easy Holiday Survival Guide featuring entertaining tips and original recipes designed with every party detail in mind, from appetizers to desert.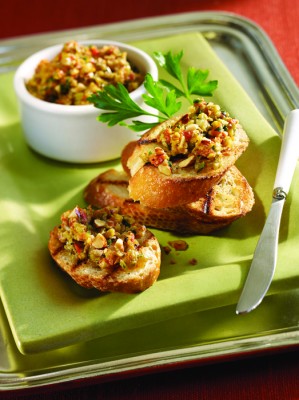 "Holiday entertaining can be so stressful, it's easy to forget that it's supposed to be fun," Krieger says. "My Take It Easy Holiday Guide can help you create a delicious, festive, memorable gathering, without the stress and angst that can sometimes take over during this busy season."
Krieger, host of "Healthy Appetite" on Cooking Channel, says her almond-inspired dishes are simple, delicious, and party-friendly fare you can feel good about eating – and serving. California Almonds add sudden sophistication, flavor and a memorable crunch to any dish, she adds.
"The key to a successful holiday gathering is to prepare simple, delicious dishes that leave you time to enjoy the company of family and friends," Krieger says. "Take my advice – with a little planning and preparation you can have your holiday party and enjoy it, too!"
The free guide featuring Krieger's recipes and tips is available for download only at www.AlmondBoard.com/EllieKrieger.
Almond-Olive Tapenade
By author and TV chef Ellie Krieger for Almond Board of California
Yields 6 1/2-cup servings
Ingredients:
1/2 cup whole natural almonds
1/4 cup golden raisins
1 medium clove garlic, minced
3 roasted red peppers (about 5 oz.) drained and rinsed
1/2 cup pitted green olives
1/3 cup fresh flat parsley leaves
1 Tb. extra-virgin olive oil
2 tsp. sherry vinegar
Salt and freshly ground black pepper, to taste
Directions:
In a dry skillet over medium-high heat, toast almonds, stirring frequently, until lightly browned and fragrant, about 5 minutes. Pour hot water over raisins and let them soak until they are plumped, about 10 minutes. Drain.
Put almonds, raisins, garlic, peppers, olives, parsley, oil and vinegar in a food processor and pulse until finely minced, but still somewhat chunky, about 12 pulses. Season with salt and pepper to taste. Make up to a day ahead and store in the refrigerator in an airtight container. Serve with crackers, pita or crostini.
Per serving: Calories 130; Total Fat 10g; (Sat Fat 1 g, Mono Fat 6.5 g, Poly Fat 2 g); Protein 3 g; Carb 9 g; Fiber 2 g; Cholesterol 0 mg; Sodium 210 mg