Hollywood, CA – Celebrating throughout the week of January 23, Blessed Sacrament School is planning to kick off events for students and a day for guests during the annual Catholic Schools Week with a school-wide poetry contest on Monday and open houses on Tuesday, January 24.
According to Principal Suzanne Patterson-Jones, the school is hosting on Tuesday two open houses for visitors interested in learning more about the value of a Catholic education. The first will be from 10 am to 12 noon, so visitors can visit classrooms while school is in session. The second will be held in the evening, from 6:30 – 7:30 pm, for visitors who cannot visit during the day. The finalists in the poetry contest will be competing that evening at 6:30 pm so, although classes are not in session, youngsters will be around. Volunteer members of the eighth grade class will provide tours and answer questions, as will teachers and the principal. This is an especially good time to visit the school and learn more about the difference a focused private education can make for your child.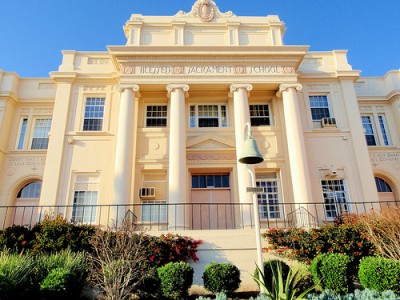 The principal and teachers are planning other special events to delight the students and to keep the celebration going all week. Blessed Sacrament School is one of only four Jesuit-sponsored elementary schools in California, culminating on Friday with children encouraged to come dressed as their favorite superhero.
Strongly supported by the movie colony in the '30s and '40s, Blessed Sacrament School has been part of the historic church for nearly 100 years, and is becoming known for its academic excellence. For more information, call Principal Suzanne Patterson-Jones at 323.467.4177 or visit www.schoolblessedsacrament.org.