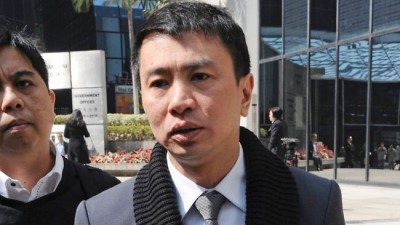 By Joyce Woo
HONG KONG, February 24, 2011 (AFP) – A Hong Kong court on Thursday jailed a congressman from one of the Philippines' most powerful political families for smuggling cocaine and another drug into the territory.
District Court judge Joseph Yau described the 18-month prison term as a serious fall from grace for Ronald Singson, a politician and music promoter, who was caught with drugs at Hong Kong's international airport last year.
The colorful 42-year-old Singson had earlier admitted bringing 6.67 grams (a quarter of an ounce) of pure cocaine and two tablets of the controlled sedative nitrazepam into the city on July 11, 2010. A vial of cocaine was found in his underwear.
"The defendant imported a substantial amount of cocaine into Hong Kong," Judge Yau told the packed courtroom, adding that Singson was a respected politician whose family has substantial wealth.
"However, he does not treasure what he has and indulges in dangerous drugs."
The judge said he took into account Singson's guilty plea, previous good character, clear criminal record, and the fact he had not planned to re-sell the drugs before handing down his sentence.
Yau added that Singson "asked for" a prison term by smuggling drugs into the Chinese territory, which regularly hands out stiff sentences to traffickers.
"It is the view of the court that there is a latent risk that the cocaine might fall into the hands of others," he said.
Hong Kong laws state that anyone bringing dangerous drugs into the city could be convicted of trafficking.
Before sentencing, Singson told reporters he was "very nervous" and "remorseful," and hoped for a light jail term.
The legislator is one of seven children by an estranged wife of Ilocos Sur governor and political kingpin Luis "Chavit" Singson, one of the most controversial political figures in the Philippines.
Singson's family and movie star girlfriend Lovi Poe were in court Thursday.
After the sentencing, the elder Singson repeated claims that his son was set up by the family's political opponents, but said he had no plans to appeal against the jail term.
"It was really planned – they placed the drugs on his coat where it can easily be found," he told Philippine television station ANC.
The family's 69-year-old patriarch said his son would quit his seat in the Philippine House of Representatives. Singson won a second three-year term in May for a seat long held by his family in the northern province of Ilocos Sur.
Singson, whose business interests include music station Channel V in the Philippines, faced a maximum life sentence and fine of up HK$5 million ($640,000).
He earlier told the court he went on a drugs-and-gambling binge after arguing with his girlfriend at a concert in Manila. He was arrested while on his way to Macau for a poker tournament.
Addiction experts who previously testified at Singson's sentencing hearing disagreed on whether the politician had a serious drug habit, but his lawyer has insisted he was deeply involved in cocaine abuse.
"He is not a commercial trafficker but a person who has become dependent on drugs. A person who needs help instead of being incarcerated," Singson's lawyer John Reading told the court this week.
Last month, the original trial judge stood down from Singson's case after receiving a letter he said contained "prejudicial allegations" against the lawmaker, and ordered the letter to be kept sealed.