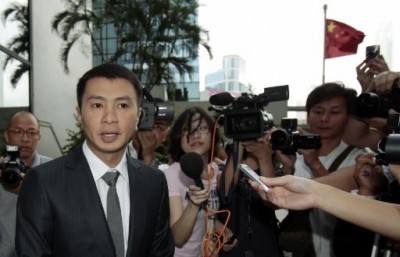 HONG KONG, January 26, 2011 (AFP) – A Hong Kong judge stood down from the drug trafficking trial of Philippine congressman Ronald Singson on Wednesday after receiving a letter with "prejudicial allegations" against the lawmaker.
Singson was arrested at Hong Kong's international airport in July and later charged with carrying a vial of cocaine weighing about 26 grams (0.9 ounces) in his hand luggage.
Judge Stanley Chan said in a Hong Kong court Wednesday that he had received a letter a few days ago containing "prejudicial allegations against the defendant".
Chan said he had decided to stand down as he may be perceived to have been affected by the contents of the letter.
"The motive and rationale behind the author is not clear," he said.
"But the timing is suspicious," he continued, saying "the unproven allegations against (Singson) may be a deliberate act to influence the sentencing" or "to manipulate or disrupt the judicial process."
He also said "the content of the letter could not be disclosed in the interests of justice".
Chan ordered the letter to be sealed and to be withheld from the next judge presiding over the hearings.
A new judge will take over when the trial resumes next Monday.
Prior to the peculiar twist of events, Singson appeared to be teary-eyed, hugging family and friends before entering the courtroom.
The colourful 42-year-old music promoter has previously indicated through his lawyer that he will plead guilty to the charge of trafficking a dangerous drug, although he insisted it was for his own consumption.
Singson juggles jobs promoting US rhythm and blues acts in the Philippines and holding a parliamentary seat.
He won a second three-year term in the House of Representatives in May, in the seat long held by his family in the northern province of Ilocos Sur.
The legislator is one of seven children by an estranged wife of Ilocos Sur governor and political kingpin Luis "Chavit" Singson, one of the most colourful and controversial political figures in the Philippines.
The 69-year-old patriarch was in Hong Kong in August to attend his son's bail hearing, and denied at the time that his son was a drug dealer. "It's a set-up," he told reporters.
In Hong Kong, trafficking a dangerous drug carries a maximum sentence of life imprisonment and a fine of HK$5 million ($640,000).