By Jannelle So
SO how do you raise enough money to build 150 new homes in Bagong Silang, Caloocan in the Philippines, for a Gawad Kalinga Village? Turns out, it takes another village – the Gawad-Kalinga-volunteers-kind of village – working together for the Hope Ball, a fundraising dinner that took place in Las Vegas, Nevada recently.
"I'm just doing my Christian duty. We are able to live comfortably here in the States. And after working hard to establish ourselves, we now have the ability and capability to give back," said Tess Carlos who was the TV and Media  Release Chair of the event. "Actually, it's an honor to be involved."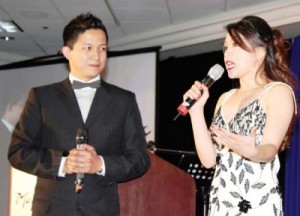 PROGRAM emcee Mickrey Gonzales listens to yours truly.
"You know, here in GK, when you suggest something, it becomes your responsibility," said Marilyn Bello, a volunteer from Los Angeles, who was tasked to coordinate and choreograph the finale which included a flash-mob type of dance.
And that's exactly how most of the kababayans who worked on this dinner-dance got involved. The night of feasting, dancing and singing was actually the product of one sleepless night for a volunteer couple. It happened when Gawad Kalinga founder Tony Meloto stayed with them in one of his many visits to the U.S.
"My husband and I couldn't sleep. We kept thinking of ways to raise money for the needy in our home country," said Luzviminda Sapin-Micabilo. "And then we thought of an extravaganza – a gathering of Filipinos, actors, singers, everyone! Sharing together this responsibility to be our brothers' keepers."
When they told Tony the next day, all the GK father said was: "Yes. Let's have a Hope Ball."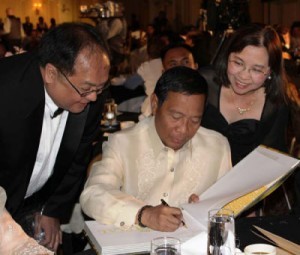 VP JEJOMAR BINAY autographs the coffee table book that the couple Nestor and wife Dr. Tessie Melocoton won at the auction.
The next crucial step was to call another "Tony," Tony Olaes. (And before this gets too confusing, let's refer to Toney Meloto as TM from here on and Tony Olaes as TO.)  So TO is the Chairman and CEO of GK-USA who admitted to having hesitations about the idea early on: "We didn't want to do it. Or at least I didn't want to do it," he said. "I didn't think it was viable because of the current economic conditions. To get people to fly to Vegas and buy seats and tables for the dinner. I knew it was going to be difficult. But it was a noble idea, no matter how absurd. But really, this all started with the vision to eradicate poverty in the Philippines. We thought it was impossible at first; But Gawad Kalinga has already made strides in that department. And this was just another big idea. So I figured I had no choice but to accept the challenge," he concluded.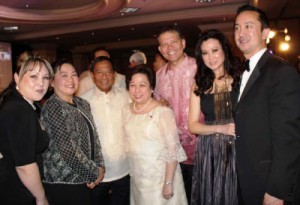 PHILIPPINE VP Jejomar Binay with Atty. Mari Parlade, Jusdge Cheryl Moss, Philippine Consul General Mary Jo Bernardo-Aragon, Judge Cedric Kerns, KG-USA's Tony Olaes and wife.
True enough, when the village of concerned and caring Filipinos came together, even the big and impossible became small and possible. Lyn Dizon-Meloto should know. Being the wife of ™ , she was one of the first people to hear of her husband's idea of nation-building. And though she said it sounded daunting, all she could do was trust.
"We've been married for years and it's not new to me to hear big ideas from him. At first I had doubts but he always delivered, so when I heard about GK, I knew it seemed unbelievable; but I had no doubts he'd achieve his goals," she said when interviewed on the red carpet of the Hope Ball which took place at the Monte Carlo Resort and Casino on the famous Sin City strip.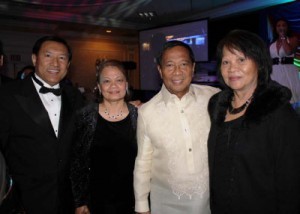 VP JEJOMAR BINAY with Ceasar and Beverly Elpidio of Fil-Am Vets of Las Vegas, and Viota Horn of Professionals Lions Club of Las Vegas.
Can you believe that because of the GK Hope Ball, something good came out of a place that's usually referred to as "Sin City?" For one, it brought together Filipinos from all over the U.S. to participate in the collective mission to eliminate poverty in the Philippines by building a new nation, one village at a time. And it's also good to know that since the GK foundation was laid out n 1995, several Filipino-Americans have already answered the call. Some also walked the red carpet at the event and talked to us.
"We were transformed when we did our first build in the Philippines. We couldn't sleep," said Marietta and Antonio Pascua who have already built many villages in the Philippines. "Our kids have all finished college and when they did, we actually planned to put up a foundation. But we got introduced to Gawad Kalinga which we think is a very good model. So we figured instead of changing or coming up with something new, why not lend our support? We've been helping since, in any way we can."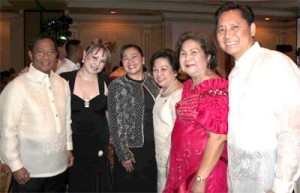 PHILIPPINE VP Jejomar Binay, Atty. Mari Parlade, Family Court Judge Cheryl Moss, Philippine Consul General Mary Jo Bernardo-Aragon, Luz Prill, and event organizer Dr. Romualdo Aragon, Jr., of UPAAN.
They are usually called GK advocates or champions. One of them is Carlos Capati who said he actually felt guilty about leaving the Philippines to pursue his career here in the U.S. And GK has given him the opportunity to give back. And while they continue to change lives back in the Motherland, these champions also reveal that their lives are also transformed.
"I love to shop. But after we got involved in GK, I started to cut down on expensive purchases. Instead of buying expensive things, I just save the money so we could continue to build villages," said Zita Yorro. Together with husband Oni, they have built the first GK village in Ilocos Sur, Zita's hometown, in honor of her parents.
PHILIPPINE vice President Jejomar Binay with the UCLA Student Volunteers Angelo Agustin, Jennifer Caldejon, diana de los Santos, Elysse Eusebio, Drew Esguerra, Carlo Ferrer, Karleen Giannotrapani, April Misa, Marian Portugal, Natasha Sumabat, Job Sy, and Maxine Ziprin.
The night raised more than $330,000 to build 150 homes in Bagong Silang. Each home would house approximately 7 people. And if you do the math, 7 x 150 = 1050 – that's how many lives would be changed because of the Hope Ball. That's the number of hopeful souls that will be inspired by the generosity of kababayans they don't even know and most they won't even meet in their lifetime. That's how we take care of each other in this world.  And this is how we will show the world that the Filipinos will succeed by helping each other, by caring enough for each other to help and lend a hand to those in need.
For more information and complete interviews, watch our Kababayan LA special on the GK Hope Ball on May 31st. For previous editions of the first and only daily talk show for and about Filipinos in America, please visit www.youtube.com/kababayanla18. â–