By Filane Mikee Cervantes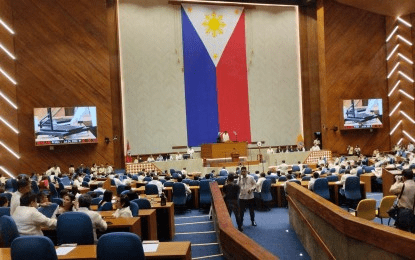 MANILA – A major bloc in the House of Representatives affirmed its support for Speaker Martin Romualdez amid the chamber's recent move to realign PHP1.23 billion in confidential funds in the proposed 2024 national budget to agencies in charge of protecting the Philippines' territorial rights in the West Philippine Sea (WPS).
"This decision showcases his prudent and thoughtful approach, echoing our commitment as representatives to listen and respond to the voices of our kababayan (countrymen)," Party-list Coalition Foundation Inc. (PCFI) president Elizaldy Co said.
The House bloc also expressed its appreciation to Romualdez for defending the institution and ensuring the "rightful representation" of 300 lawmakers as mandated by the Constitution.
Co likewise pointed out that the House has obtained high approval ratings under the "guidance and inspiration" of Romualdez.
"It is also imperative to underscore Speaker Romualdez's dedication to defending and elevating the House of Representatives. The House has flourished under his supervision, as shown in numerous metrics that reflect his strategic and resilient administration," Co said.
"Because of all these and more, the PCFI reaffirms its support for Speaker Romualdez's continued leadership. We recognize and commend his experience and foresight in making judicious decisions that enable the House of Representatives to be in line with the aspirations of our people. Speaker Romualdez has undeniably placed our institution on the right side of history," Co added.
Co earlier said the Department of Education (DepEd), Department of Agriculture (DA), Department of Information and Communications Technology (DICT), Office of the Vice President (OVP), and the Department of Foreign Affairs (DFA) will get "zero" confidential funds under the proposed spending plan for next year.
He said the PHP1.23 billion worth of confidential funds will be reallocated to the following agencies: PHP300 million to the National Intelligence Coordinating Agency; PHP100 million to the National Security Council; PHP200 million to the Philippine Coast Guard for intelligence activities and ammunition; and PHP381.3 million to the Department of Transportation for the development or expansion of Pag-asa Island Airport. (PNA)