By Filane Mikee Cervantes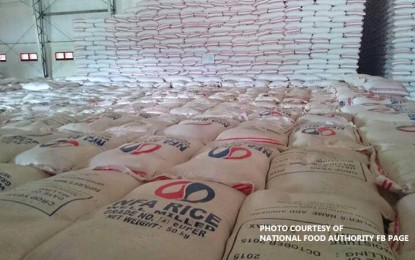 MANILA – The chairperson of the House Ways and Means Committee on Friday supported President Ferdinand R. Marcos Jr.'s call to increase the rice buffer stock of the National Food Authority (NFA) following projections that the country's rice inventory will fall to 45 days' worth of consumption by year-end.
In a statement, Albay 2nd District Rep. Joey Salceda said the projected buffer stock is lower than the ideal 90 days, and the government should boost the country's rice stockpile from a mix of both domestic sources and imports.
He, however, noted that the imports should be limited to the lean months of July and August to ensure that the NFA's buying program, which places a 2- to 3-peso premium on farmgate prices, does not accelerate inflation.
"With El Niño, it's always good to be prepared. Rice prices are actually declining globally, so it may be a good time to bolster our buffer stock," Salceda said. "Anyway, we can always use excess inventory for pre-disaster and disaster relief operations."
He cited that global rice prices have declined by 3.2 percent from February to March 2023, and he expects global price levels for rice to be very close to pre-pandemic levels by July or August 2023.
"The trend shows significant price reductions as the world fertilizer markets adjust better to the now-stagnant Ukraine situation. If a rice price downtrend affects local farmgate prices, although I don't think they will by much, the NFA can also undertake a highly-targeted buying program to support prices in certain areas," Salceda said.
Salceda, however, pointed out that the government should not be the only one to import the entire projected rice inventory deficiency for the rest of the year, as the private sector could participate in the effort.
"Unlike onions or other vegetables that need high cold-storage capital, the rice trading market has proven to be relatively harder to cartelize because of tariffication, and how easy it is to contest. So, I think the markets will adjust and respond better than the NFA can. Let the private sector do its job, for now," he said.
In a video interview on Thursday, Marcos said the NFA should build up its buffer stocks sourced from local farmers for now.
Marcos also noted that while the government would still have to consider importation, the volume of rice allowed to enter the country has dropped significantly.
"Magpa-plano kami kung kailangan mag-import, kung kailangan magpahaba, magparami ng buffer stock sa NFA dahil masyado ng mababa. 'Yun lang ang nakita naming problema, mababa 'yung buffer stock ng NFA. (We are planning when to import, and when to buffer the stocks of NFA because it is very low. That's the only problem that we see, the low NFA buffer stock)," he said.
The NFA is proposing the importation of 330,000 MT of rice to cover an expected deficit in the country's buffer stock for the relief operations of various agencies in the event of calamities this year.
Agriculture officials said the proposed buffer stock of rice is equivalent to nine days of national consumption from July 2023 onwards and will ensure sufficient volume for calamity and relief requirements from July to December this year.
Given the NFA's budgetary constraints, the agency expects its buffer stocks will decrease to less than 500,000 sacks by July 2023, which is equivalent to less than a day of public consumption. (PNA)