By Zaldy De Layola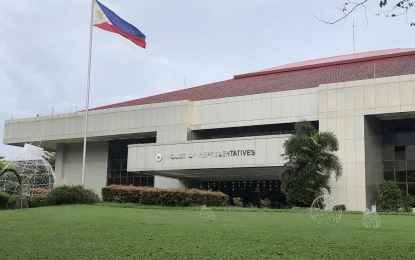 MANILA – The House of Representatives has approved on second reading House Bill 9153 seeking to end the proliferation of contraband, particularly illegal drugs inside prisons and other custodial and detention facilities.
"The bill is necessary in order for our government agencies to impose the appropriate penalties for persons and syndicates who continue to commit illegal activities inside these facilities," Rep. Robert "Ace" Barbers said after the bill passage at the plenary on Wednesday.
Barbers, chair of the House Committee on Dangerous Drugs, said HB 9153 or "An Act Mandating all Correctional, Custodial and Detention Facilities to Implement a Contraband Detection and Control System", also seeks to prevent convicted drug lords and hardened criminals from using prisons as their own protected kingdom for illegal business and other notorious activities.
Barbers, one of the principal authors of the bill, said HB 9153 mandates all government agencies and local government units that operate and maintain any correctional, custodial or detention facility to establish a Contraband Detection and Control System (CDCS).
Reps. Roman Romulo of Pasig lone district, Juan Carlos Atayde of 1st district of Quezon City, Juliet Marie De Leon Ferrer of Negros Occidental's 4th District, Christopherson Yap of Southern Leyte's 2nd district and Linabelle Ruth Villarica of Bulacan's 4th district co-authored the bill.
Under the bill, the CDCS includes the use of handheld and walk-through metal detectors, X-ray scanners, K-9 units and other modern technology and devices.
This will cover all correctional facilities operated and managed by the Bureau of Corrections, custodial facilities and detention facilities operated and managed by the provincial governments, Bureau of Jail Management and Penology (BJMP), Philippine National Police (PNP), National Bureau of Investigation (NBI), and other facilities used to detain or hold persons deprived of liberty (PDL).
The bill defines contraband as any object that is prohibited by law, rules or regulations to be obtained or possessed inside correctional, custodial and detention facilities, or such object that could endanger the safety or security of persons inside such facilities or to the public.
The contraband specifically includes ammunitions, firearms, explosives, illegal substances like dangerous drugs, intoxicating beverage, cigarettes and vapes, all forms of monetary instruments, electronic communication devices, signal jammers, luxury items and any other object that is capable of threatening the safety, security or healthy of persons inside or around the detention facility.
HB 9153 also seeks to impose the penalty of imprisonment ranging from 20 years and one day to 40 years and a fine of not less than PHP5 million but not more than PHP10 million to any person who shall introduce, convey or attempt to introduce or convey dangerous drugs, firearms, and explosives or those who will be caught in possession thereof in a prison facility.
The introduction, conveyance or possession of other kinds of contraband in prison, as defined under this Act, shall be punished by imprisonment ranging from six years and one day to 12 years and a fine of not less than PHP1 million but not more than PHP5 million.
Public officials, jail authorities and employees who shall violate any provision of this bill, in addition to the penalties of fine and imprisonment, shall also be penalized with perpetual absolute disqualification from holding public office and forfeiture of all retirement benefits and accrued leave credits. (PNA)