By Zaldy De Layola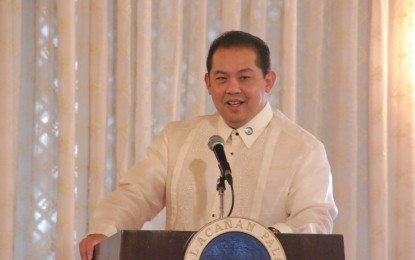 MANILA – Speaker Ferdinand Martin G. Romualdez on Thursday touted the House of Representatives' accomplishment of approving 31 out of 42 priority bills identified by President Ferdinand Marcos Jr. and the Legislative-Executive Development Advisory Council (LEDAC).
The latest measures that have been passed were the 30-year National Infrastructure Program Bill and the proposed National Land Use Act.
"We are proud of our collective accomplishment – 31 out of 42 and counting. As of today, we have achieved a significant part of our goal in less than a year of session," Romuladez said in a statement.
"I thank our colleagues for their hard work, as well as the various political parties in the House, which have committed to support the passage of priority measures determined by the President and the LEDAC and the House itself."
He said the measures "aim to support the President's vision of keeping the economy on the high growth path and generating more jobs and income opportunities for our people."
The proposed 2023-2052 National Infrastructure Program is contained in House Bill (HB) 8078.
"It will be an all-encompassing program covering not only public works like roads, bridges, and expressways, which we commonly refer to as infrastructure, but also energy, water resources, information and technology, agri-fisheries, food logistics, and socially-oriented structures, such as school buildings and other educational facilities," he said.
"It would institutionalize the 'Build Better More' program of President Ferdinand Marcos Jr. to support a strong economy through a resilient and reliable national infrastructure network."
The proposed National Land Use Act (HB 8162) seeks to institute a national land use policy that has been years in the making.
"This is a long-awaited measure and the President knows its importance. Through this proposed law, the government will have the tool to properly identify land use and allocation patterns in all parts of the country," Romualdez said.
Of the 42 LEDAC bills, three have been signed by the President into law and are now being implemented: the SIM (subscriber identity module) Registration Act, the bill postponing the barangay and Sangguniang Kabataan elections to October this year, and the measure amending the law on the fixed term of the Armed Forces of the Philippines chief of staff and other ranking officers.
A bill that seeks to condone unpaid loans obtained by thousands of agrarian reform beneficiaries, together with their penalties, has been sent to Malacañang.
More LEDAC bills are on the road for final approval, such as the bill on Bureau of Immigration Modernization and the Philippine Salt Industry Act.
Three others are for second reading approval — the proposed Natural Gas Industry Enabling Law, National Employment Action Plan, and Philippine Ecosystem and Natural Capital Accounting System Bill.
Under committee/technical working group deliberation are the bills for the creation of the Department of Water Services and Resources, and amendments to the Electric Power Industry Act and Anti-Agricultural Smuggling Act.
For committee discussion are the bills on Budget Modernization, the National Defense Act, and the Unified System of Separation, Retirement, and Pension for Uniformed Personnel.
Measures that have been approved on third and final reading are those on the Magna Carta for Seafarers, E-Governance Act/E-Government Act, Negros Island Region, Virology Institute of the Philippines, Passive Income and Financial Intermediary Taxation Act, National Disease Prevention Management Authority or Center for Disease Control and Prevention, Medical Reserve Corps, Philippine Passport Act, Internet Transaction Act/E-Commerce Law, Waste-to-Energy Bill, Free Legal Assistance for Police and Soldiers, Apprenticeship Act, Build-Operate-Transfer Law, Magna Carta for Barangay Health Workers, Valuation Reform, Eastern Visayas Development Authority, Leyte Ecological Industrial Zone, Government Financial Institutions Unified Initiatives to Distressed Enterprises for Economic Recovery, National Citizens Service Training Program, and National Government Rightsizing.
Also finally passed and sent to the Senate is the Maharlika Investment or Sovereign Fund bill, authored principally by Romualdez, which the President has certified as urgent. (PNA)