By Filane Mikee Cervantes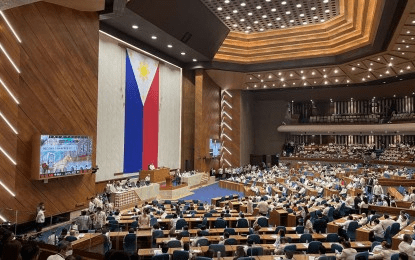 MANILA – Lawmakers on Monday said the House of Representatives is on the right track in fulfilling its mandate to serve the people as indicated by the high trust ratings of Speaker Martin Romualdez.
House Committee on Appropriations chair and Ako Bicol Rep. Elizaldy Co said the legislative work under Romualdez's leadership complements the efforts of the administration of President Ferdinand R. Marcos Jr., noting that government programs are made possible through a competent, streamlined, yet rigorous legislation process.
"I believe if the Filipino people continue to put their trust in Speaker Romualdez's leadership, then the House must be doing something right," Co said.
Co made the remark following the release of the OCTA survey results conducted from Sept. 30 to Oct. 4, 2023 showing that Romualdez's trust rating increased by six points from 54 percent during the 2nd quarter of 2023 to 60 percent in the third quarter.
The Speaker's performance rating also went up by six points from 55 percent in April to June 2023 to 61 percent in the 3rd quarter.
The current trust figures showed a 22 percent increase from 2022 figures pegged at 38 percent, while this year's satisfaction figures increased by 17 percent from 44 percent in the previous year.
"Speaker Romualdez treats his high trust ratings as an inspiration to do more and achieve more, and not as a reason to be complacent. And so far, we are right on track," Co said.
House Committee on Agriculture and Food chair Mark Enverga said the survey results provide the House leadership with renewed motivation to redouble its efforts to help the current administration address the pressing issues of inflation and the agriculture sector.
Enverga noted that the House under Romualdez's leadership has consistently backed government initiatives to combat the smuggling and hoarding of rice, sugar, onions, garlic, and other agricultural products.
House Committee on Dangerous Drugs Robert Ace Barbers said the ratings show that the efforts of the House and the Speaker throughout the past year and a half haven't gone unnoticed and unappreciated.
"While I'm sure that the good Speaker won't gloat about it, for us House members, we are happy to see his hard work recognized. This gives us all the more reason to work harder for the benefit of Filipinos," Barbers said.
Romualdez, for his part, stressed that credit for the high trust and satisfaction ratings should be given to the collective strength and dedication of all members of the House of Representatives.
"These ratings are not just numbers. They mirror the dedication and teamwork of the hardworking members of the House," Romualdez said. "Every decision made, every bill passed, is a result of our united efforts to serve the Filipino people."
Romualdez said he will use the insights from the survey to further enhance the House's legislative agenda, explaining that surveys are important tools of governance as they are indicative of the people's sentiments on pressing issues.
"Our focus remains on addressing the pressing issues that affect our countrymen and ensuring that we remain transparent, accountable, and responsive to their needs," he said. "We view these feedback mechanisms as essential guides. They help us align our legislative work with the needs and aspirations of the Filipinos."
BSKE participation
Former president and now Pampanga Rep. Gloria Macapagal-Arroyo and her colleagues cast their votes during the Barangay and Sangguniang Kabataan Elections (BSKE) on Monday.
Presidential son and Ilocos Norte Rep. Ferdinand Alexander Marcos voted at Calayab Elementary School in Laoag, Ilocos Norte.
Cibac Party-list Rep. Eddie Villanueva voted at Bunlo Elementary School in his hometown in Bocaue, Bulacan, urging Filipino voters to vote wisely.
"Remember that the barangay leaders who will be elected today will determine the quality of public service and development not only in our respective barangays but also in the entire nation," Villanueva said.

Albay Rep. Joey Salceda went to his precinct in Barangay Penafrancia, Daraga town, and became the 188th voter.
Manila Rep. Joel Chua cast his vote at Mabini Elementary School in Quiapo, Manila.
PBA Party-list Rep. Margarita Nograles went to Palma Gil Elementary School in Davao City to vote.
Manila Rep. Bienvenido Abante Jr., who also exercised his right to vote, appealed to barangay leaders to be the country's champions against vices such as gambling and tobacco use.

Bohol Rep. Alexie Tutor urged everyone to vote for a person who is "not just for the masses", but also "knows how to fight whatever problems may come and has a good view in the barangay". Tutor cast her ballot in Poblacion, Candijay.

BHW Party-list Rep. Angelica Co, who voted in Cruzada, Legazpi city in Albay, advised the Sangguniang Kabataan to help their cities and municipalities monitor the implementation of public works projects in their barangays.
"As chairperson of the House Committee on the Welfare of Children, I believe that moving forward, the SK should do more than just basketball paliga (league), pageants, and talent shows. Their youthful energies and talents could be channeled to championing child care and protection, LGBTQIA rights, anti-hazing programs, and addressing juvenile delinquency and unemployment," Co said. (PNA)