By Zaldy De Layola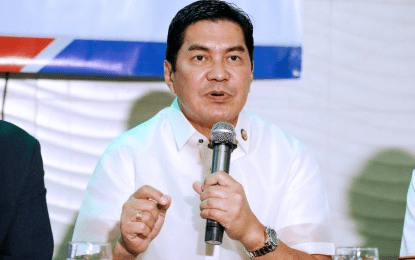 MANILA – Lawmakers have filed House Resolution (HR) 1464 seeking an inquiry in aid of legislation into banking platforms with linkages to gambling applications.
House of Representatives Majority Leader Erwin Tulfo and fellow ACT-CIS Party-list Reps. Edvic Yap and Jocelyn Tulfo, as well as Benguet Rep. Eric Yap and Quezon City 2nd District Rep. Ralph Tulfo filed HR 1464 on Monday to look into the operations of Maya Digital Savings Bank, a prominent digital savings bank in the country that also offers mobile wallet services.
In his privilege speech on Tuesday, Tulfo said it has come to his attention that Maya's platform carries links to various gambling apps that openly allows subscribers to participate in gambling activities.
These gambling apps encompass games, such as baccarat, poker, bingo, fruit games, and similar forms of gaming where subscribers can place bets through Maya's mobile wallet services, he said.
Tulfo said these gambling links within Maya's savings bank platform warrant a thorough probe by the House.
"This question strikes at the core of our responsibility as lawmakers to protect the interests of the millions of subscribers who rely on Maya Digital Savings Bank for their financial transactions and digital wallet needs," he said.
Tulfo said he wanted to know whether the Bangko Sentral ng Pilipinas (BSP) is aware of Maya's inclusion in its platform of the links to gambling apps.
"This investigation will shed light on whether these gambling activities are conducted in compliance with our laws and regulations, and whether they truly serve the best interests of our citizens," he said.
Tulfo noted the growing concern about whether bank regulators should permit the presence of gambling apps within the digital platform of a savings bank, considering the potential ramifications on financial stability and the welfare of consumers.
At least six digital banks are permitted by the BSP to operate in the country – Maya, Uno, Tonik, CIMB, Union Bank, and GoTyme Bank.
Out of these six digital banks, only Maya carries in its platform the links to gambling apps, Tulfo said.
If these gambling apps are permitted by law, it raises questions about the ability of the Philippine Amusement and Gaming Corp. (PAGCOR) to effectively check and monitor these apps and, if necessary, exercise its regulatory powers to ensure that they operate within the bounds of the law, he said.
Tulfo emphasized the importance of transparency, legality, and consumer protection within the rapidly evolving landscape of digital banking and financial services in the Philippines. (PNA)