By Filane Mikee Cervantes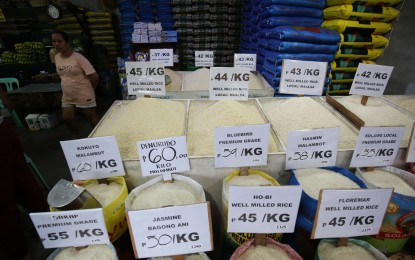 MANILA – Speaker Martin Romualdez has directed the House Committee on Appropriations to find ways to allocate PHP2 billion in the 2023 national budget to help rice retailers affected by the mandated price ceilings on the staple food.
Romualdez said he has instructed House Committee on Appropriations chair Elizaldy Co to immediately coordinate with the Department of Budget and Management to explore avenues to finance the PHP2-billion worth of assistance to support retailers.
"Our goal is to ensure that we can extend assistance to rice retailers who may be affected by this rice price ceiling, as it is a directive from our President aimed at protecting consumers," Romualdez said in a statement on Monday.
Co, meanwhile, said he will "promptly engage" with the DBM to expedite the release of the funds for the rice retailers.
Romualdez said this initiative underscores Congress's unwavering commitment to fortifying and bolstering the resilience of essential food supply chains.
He said he would engage with leaders of rice retailers nationwide later this week to hear their concerns regarding potential financial losses stemming from the rice price ceiling.
"The government is not insensitive, so we want to listen to their concerns, and we will try to find a solution to address their fears of incurring losses," he said. "We are aware that they have high costs from traders, but our priority is the public's difficulty in buying rice."
Under Executive Order (EO) 39, inked by Marcos on Thursday and made available on Friday, the mandated price ceiling for regular milled rice is PHP41 per kg., while the mandated price cap for well-milled rice is PHP45 per kg.
As of Aug. 28, the Department of Agriculture (DA) reported that the price per kilogram of local regular milled rice in markets in Metro Manila ranged from PHP42 to PHP55, while local well-milled rice stood at PHP48 to PHP56.
The joint recommendation of the DA and the Department of Trade of Industry (DTI) to impose a rice price ceiling aims to ensure that the staple is "reasonably priced and conveniently accessible" to Filipinos, EO 39 said.
"The mandated price ceilings shall remain in full force and effect unless lifted by the President upon the recommendation of the Price Coordinating Council or the DA and the DTI," read the EO, which takes effect immediately upon publication in the Official Gazette or a newspaper of general circulation.
The DA and the DTI's recommendation stemmed from the current increase in retail prices of rice in the country, which resulted in a considerable economic strain on Filipinos, particularly the underprivileged and marginalized.
Romualdez assured that the government is committed to supporting retailers affected by the executive order. (PNA)