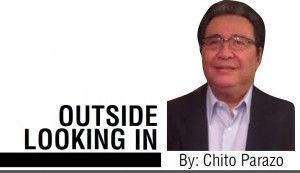 It is so sad that Mar Roxas, the son of the well-respected late Senator Gerry Roxas and a scion of the affluent Araneta clan, is a born loser.
If Roxas , the Liberal Party presidential candidate, is convinced that he will be elected as the next President despite his low numbers in rigged poll surveys, he is being delusional.
With less than seven months to go before the presidential elections, the former Interior Secretary (or should I say Inferior Secretary) cannot also come to terms that he is not cut out to be President. No amount of public relations make-over could possibly help alter his arrogant image to millions of voters.
Millions of Filipinos saw him on YouTube how he arrogantly berated Tacloban City Mayor Martin Romualdez days after super typhoon "Yolanda" battered large portions of Eastern Visayas that killed more than 10,000 residents in the area.
Worse, he even had the temerity to deny it to reporters when confronted about the matter during a press conference. Just like his President Noynoy Aquino, he lies all the time thinking that the public will always believe in everything he says" hook line and sinker."
Despite the so many public relations gimmicks done on him, he has failed time and again to endear himself to millions of Filipinos, particularly the homeless flood victims still living in tents in some parts of Eastern Visayas.
Most people agree that Roxas will be an exact replica of President Noynoy, if ever he gets elected through deception. He has no sympathy for the poor, will never implement land reform, including the distribution of land titles to farmers of Hacienda Luisita despite the Supreme Court ruling.
There is no doubt that he will not impose the full force of the law to implement land reform since he, like President Noynoy, comes from the families of "hacienderos." No wonder, they are incapable of showing any sympathy for people who are destitute and those suffering from anguish for losing their loved ones.
If I were to choose between Vice President Jojo Binay and Mar Roxas, I will pick Binay without any reservation. Even if there were a lot of allegations about Binay and his family for being corrupt, they have at least done a lot to help the poor, particularly the senior citizens in Makati, in terms of free medication and hospitalization.
If you cannot swallow Binay as your next President, then go for Senator Mirriam Defensor Santiago. She is feisty and not afraid to speak her mind and has the guts to make corrupt politicians toe the line.
How about Roxas or "Mr Palengke?"  Did he do anything for the betterment of the Filipinos in his long years of being a Senator, Congressman and Cabinet Secretary? I don't think so. Just look at what he did to the LRT during his time as DOTC Secretary.
What did he do as DILG Secretary to ease the suffering of thousands of flood victims of Super Typhoon "Yolanda" in the Visayas region? Nothing. As a matter of fact, more than 200,000 thousand families are still living in tents in some areas of Leyte and Samar due to government's inability to fast-track the completion of their two-bedroom shelters.
The pro-poor "Mister Palengke" image of Roxas was an exact opposite of his real self when he expressed his indignation and opposition to the proposed measures to lower income tax payments.
In explaining his opposition to the proposed tax reform measures, Roxas claimed that government projects needed to spur economic growth will have to be shelved to give way to the passage of the tax reforms.
Roxas has also been severely criticized by labor and business sectors for his opposition in the proposed income tax measures designed to help millions of workers and business struggling to keep their businesses afloat.
What the country needs right now is a leader who will be the President of all Filipinos, whether they are from Leyte or Tarlac, or from the Ilocos region. He should be a unifying President. He should not be vindictive. He should implement laws without compromise and most important, he should not allow his sisters or brothers in law to meddle in multi-billion government contracts.
In short, he should be the opposite of our current sitting President.
Former Assemblyman Bong Adaza, in a television interview said that both President Aquino and his late mother, Cory Aquino, are certified "TWA" (Talagang Walang Alam).
Adaza, in the same television interview, said both mother and son were exploited by their Cabinet Secretaries, close friends and relatives and their cronies, to enrich themselves.
I hope that Filipinos have learned their lesson after electing an incompetent politician out of sympathy over the death of her mother despite his mediocre performance as both Senator and Congressman.