Nearly two-thirds of US Latinos say discrimination against them is a big problem, and nearly one in four Hispanics cite illegal immigration as a key cause of the prejudices they face, a poll released Thursday shows.
Sixty-one percent of Latinos told pollsters from the Pew Hispanic Center that discrimination against Hispanics is a "major problem" – a seven-point rise from the 54 percent who said the same in 2007.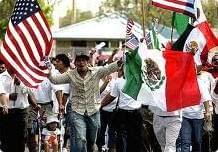 "Asked to state the most important factor leading to discrimination, a plurality of 36 percent now cites immigration status, up from a minority of 23 percent in 2007," when language skills were cited as the biggest cause of discrimination against Hispanics, the report said.
Out of the estimated 11.1 million illegal immigrants in the United States, around 80 percent are Latinos, the Pew study said.
The poll was released in the midst of a heated election season in which illegal immigration is a hot-button issue.
It showed that the large Latino community in the United States is not only worried about the impact illegal immigration on Hispanics but also divided over how to deal with it.
A majority – 53 percent – of the 1,375 Latino adults polled by phone in August and September said illegal immigrants should be fined but not deported; 13 percent said they should be deported; and just over a quarter – 28 percent – said they should not be punished at all.
Seven in 10 foreign-born Latinos said discrimination was a major problem that prevents Hispanics from succeeding in the United States. Among US-born Latinos, less than half — 49 percent – agreed with that sentiment.
Native- and foreign-born Latinos also differed on their views of immigrants: fewer than seven in 10 Hispanics who were born in the United States said immigrants strengthen the country, compared to 85 percent of immigrant Hispanics who felt the same.
The 47 million Latinos in the United States make up the country's largest minority group, comprising nearly 15 percent of the total population.
Nearly four in 10 US Latinos are immigrants, and around one in five are illegal immigrants.