By Leonel Abasola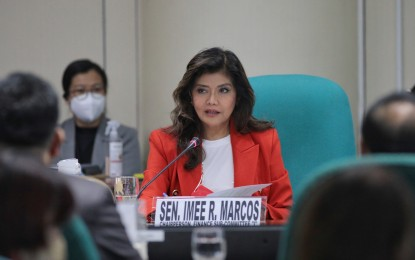 MANILA – Senator Imee Marcos has filed a resolution seeking to probe the alleged "uncoordinated" activity of a US Air Force Boeing C-17 plane that landed at the Ninoy Aquino International Airport (NAIA) last Monday.
In her Senate Resolution 667 that she filed Wednesday, the chair of the Senate Committee on Foreign Relations said the inquiry would discuss the US military's possible violation of the Visiting Forces Agreement (VFA).
"No prior advisory on the flying elephant's arrival reached the Airport Integrated Command and Control Center at NAIA. This raises questions of sovereignty, not just air travel safety," Marcos said.
A provision in Section 8 of the VFA states that "aircraft operated by or for the United States armed forces shall observe local air traffic control regulations while in the Philippines."
The Civil Aviation Authority of the Philippines (CAAP) said the US Embassy had informed the Department of Foreign Affairs, and gained diplomatic clearance number DSN-0659-KB-JUN-US-2023 for a US military plane supporting joint Philippine-US activities under Kapit Bisig activities.
Marcos, however pointed out that questions remain about the plane's mission, the identities of its flight crew and lone passenger, the type of its cargo, and the reason for the 10-hour layover in Manila.
"What we know so far is that the plane came from Guam, was on its way to Puerto Princesa, and proceeded to Honolulu," she said.
"It is crucial for the State to carefully scrutinize the activities of foreign militaries in the country, particularly those which appear questionable or are shrouded in secrecy," Marcos said.
The Senate inquiry will be the second that Marcos has called for in the past two weeks to discuss the lack of transparency in US military activities in the Philippines.
A previous hearing made public a US government plan to relocate up to 50,000 Afghans to the Philippines while their special immigrant visa applications remain stranded in a bureaucratic backlog. (PNA)