By Jason Gutierrez
MANILA, December 14, 2010 (AFP) – Imelda Marcos was jubilant Tuesday after the the Philippines' highest court returned a beachfront mansion that was seized by the government when a 1986 popular revolt toppled her dictator husband.
The 81-year-old widow said she planned to bring in renovators to the sprawling property after the Supreme Court handed down its ruling late Monday, as she insisted it had always belonged to her family.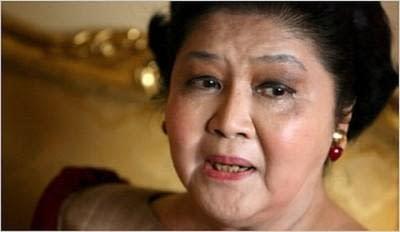 "I am very happy. This property is very important to me because this is where my father was born," Marcos told AFP.
"The property had belonged to my family long before I met Ferdinand Marcos, so how could government say it is ill-gotten wealth? Now I can rebuild it."
The Supreme Court on Monday dismissed a petition filed by the government, which had asked it to make a final ruling on whether it had been allowed to confiscate the property.
However the court did not rule on the basis of whether the Marcos family had acquired the house illegally, rather it said the wrong government officials had originally signed the documents confiscating the property.
The government had maintained that Imelda Marcos, who grew up poor, and her late husband, Ferdinand, had illegally acquired the property.
The 17-room mansion on the central island of Leyte has its own golf course, swimming pool, cottages and a pavilion. It was used by the Marcoses to entertain guests and close friends during the dictator's 20 years in power.
Ferdinand Marcos, ruled the Philippines for 20 years until 1986, a period when many activist opponents were jailed, went missing or were believed killed.
The Marcos family is accused of having stolen billions of dollars from state coffers over those two decades, hiding the wealth in secret bank accounts abroad or investing it in property, jewellery and artwork.
Prior to the mansion ruling, the government was litigating over assets worth 200 billion pesos (4.55 billion dollars) allegedly acquired illegally by the Marcoses and their allies, many of whom were accused of acting as proxies for the former first family.
The revolt forced the family into US exile, but Imelda Marcos returned in 1991 with her children, two years after her husband's death in Hawaii. They have since regained much political clout.
Imelda won a seat in the lower house in this year's national elections, while her son, Ferdinand Marcos Jr., won a senate post and is eyeing a tilt at the presidency in 2016.
Imelda Marcos said she was allowed to return to the Leyte mansion very briefly in the 1990s to entertain war veterans, but was subsequently told to leave.
The government sublet the golf course but the mansion and its surrounding structures were allowed to deteriorate, she alleged.
The family inspected the property earlier this year and found excavations under the mansion, allegedly by treasure hunters who thought the former dictator buried his fabled wealth there, a Marcos aide told AFP.