Lindsay Lohan has completed her court-ordered treatment at the Betty Ford Center and has been OK'd to leave the drug and alcohol rehabilitation facility, according to RadarOnline. Whether or not she's actually left the facility is a hazy matter. According to TMZ and the Los Angeles Times, Lohan is going to stay at Betty Ford a few more days to receive more treatment and Lohan reportedly told Gossip Cop in a text-message, "I didn't leave [rehab]."
However, several sources, including Radar and PEOPLE have reported that the actress has indeed left Betty Ford. Dina Lohan reportedly confirmed her daughter's release to E! Online, saying "It's a great day."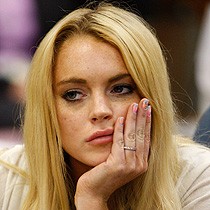 Neither Lohan or her father, Michael, have commented on the star's current whereabouts
Dina Lohan declined to confirm Lindsay's location to us, but tells PopEater "I thank everyone for their support, but I ask as a mother that she be given the time and space she needs."
Sources close to the 'Mean Girls' actress tell PopEater that Lindsay will likely remain in Los Angeles for the foreseeable future rather than immediately relocate to her native Long Island. The actress has no film projects lined up and plans to work on her fashion line upon her release.
LiLo rang in the new year with her first tweet in months and voiced her desire to start anew in 2011: "Today is the first day of the rest of my life. 'The future depends on what we do in the present.' -Mahatma Gandhi… One step at a time…."
"She has taken the right steps and put the right people back in her life that she had at the best part of her life, to really use it as a springboard," the actress's father, Michael Lohan, said in an interview Monday on CBS' 'The Early Show.'
After years of acrimony and estrangement, Lindsay and Michael reunited during her 98-day stay at the Rancho Mirage, Calif., treatment facility. "It was an emotional reunion," a source told RadarOnline at the time. "There were hugs, kisses and even a few tears when Michael and Lindsay first saw each other."
Following their reunion, Michael, who for years caused Lindsay nothing but grief by discussing her private matters with the press, agreed to stop discussing his daughter publicly. "I have pledged not to comment about anything relating to my daughter," Michael told Radar after his visit with Lindsay at Betty Ford. "However, what I will say is that I am an incredibly proud father tonight. My daughter is progressing extraordinarily well."
In November, the actress's mother had similar praise for her progress. In an interview with Matt Lauer on 'Today,' Dina said, "She's just a different person. She's been in a couple facilities, but this one, to me, has really changed her. They get into your psyche and your family and they bring the problem to the surface."
On Sept. 24, after failing a pair of drug tests — for cocaine and illegal Adderall use — following her release from an inpatient rehab stay at UCLA Medical Center, Lohan was initially denied bail and taken into custody. Los Angeles Superior Court Judge Elden Fox reportedly issued the order without hearing arguments from Lohan's lawyers, and within hours another judge overturned the ruling and the starlet was released on bail.
A few days later, however, on Sept. 27, she voluntarily entered rehab at Betty Ford. At an Oct. 22 hearing, Judge Fox ordered her to remain there through Jan. 3. "You're staying [in rehab] past the New Year's – there's a reason for that."
In December, the actress was investigated for alleged misdemeanor battery on former Betty Ford worker Dawn Holland. In an interview with TMZ, Holland claimed LiLo and two other female Betty Ford patients left the facility without permission and declined breathalyzer tests upon their return. Holland claimed Lindsay became belligerent, pushed her and snatched a phone from her hand, straining her arm.
"Lindsay and two other patients had snuck out, went drinking and tried to sneak back in and they got caught," Holland told TMZ. "We were told by our administration on-call to do a breathalyzer test, which she refused to do … She was angry and out of control."
Holland has since been fired from Betty Ford for breaking confidentiality laws by identifying patients at the center in the TMZ interview, "disclosing a privileged document" and violating HIPAA laws.
The actress was never charged in the alleged incident.
Lindsay's years-long legal woes have put her career on hold. This fall, she missed opportunities to promote her role in the film 'Machete' because she was in jail and rehab and was dropped from what she'd hoped would be her comeback vehicle, the Linda Lovelace biopic 'Inferno.'