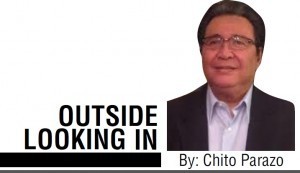 The presidential election is still two years away, but the people are already excited about electing someone who can pluck the country from its present economic stagnation and institute meaningful reforms in government.
Sad to say, however, the Filipino people are still left with little or no choice at all in searching or choosing for a true and honest leader from the crop of current presidential candidates.
Most of these politicians, if not all of them, aspire to become president only because they are driven by greed, power and lofty ambitions, rather than improving the lives of millions of destitute Filipinos.
Hopefully there will be somebody out there who will come out and emerge as a fair and honest leader that will work for the good of our country as well as the welfare of every Filipinos.
Leading the pack of presidential wannabes are Vice President Jejomar Binay, Interior Secretary Mar Roxas, Senators Alan Peter Cayetano and Antonio Trillanes IV. Latest reports coming from Manila stated that both Senators Miriam Defensor Santiago and  Ferdinand "Bongbong" Marcos are also contemplating of running for the highest office in the country.
Except for Senators Marcos, Santiago and Roxas,  all the other presidential aspirants have been accused of corruption for allegedly receiving hundreds of millions of  pesos from the government's Disbursement Acceleration Program (DAP) funds and the questionable manner on how they dispersed it.The Supreme Court has recently ruled that the DAP was unconstitutional.
Hundreds of millions of pesos coming out from the DAP funds were used to bribe senators and congressmen to impeached former Chief Justice Renato Corona.
At present, Vice President Binay is the subject of a senate inquiry concerning the alleged P2.3 billion overpriced car park building constructed during his stint as Mayor of Makati. Binay has also been accused so many times in the past of amassing so much wealth during his 19-year reign as mayor. Many are saying that among the present presidential candidates, Binay is the only one who can easily put up a P6 billion campaign kitty to finance his election campaign.
Senators Trillanes, on the other hand, has been pointed to as one of the first bribe takers who got P50 million from DAP. I am really disappointed with this person. He who once projected himself as an honest naval officer when he and his 321 fellow soldiers staged  a mutiny in July 27, 2003, to protest pervasive corruption in the Macapagal-arroyo administration, is himself a thief and a liar and a bootlicker.
In the case of Senator Cayetano, both he and his wife, Maria Laarni Cayetano, are facing graft and corruption charges filed with the office of the Ombudsman for the questionable use of the legislator's Priority Develoment Assistance Fund (PDAF).
He is accused of misusing his pork barrel funds that was released to him from 2007 to 2009 as well as the purchased of overpriced multi-cabs for the City of Taguig in 2012. His mayor is one of his co-respondent in the questionable sale of the overpriced multi cabs.
So come election day in 2016, the voting public must choose carefully and be wary of these politicians facing corruption charges. These tainted politicians are like virus which slowly destroys the system with their venomous acts. They should not be allowed to hold any lofty positions in government.
The voting public must exercise their right of suffrage to prevent corrupt politicians from being elected in public offices. They should also cast their votes based on their conscience and belief in the person they are voting for.