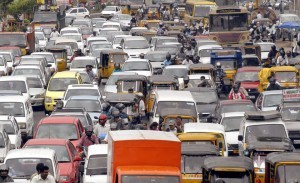 By Penny MacRae
NEW DELHI, August 10, 2011 (AFP) – Indian car sales slid almost 16 percent in July from a year ago, their biggest drop in nearly three years, as steep borrowing costs kept buyers out of the showrooms, data showed Wednesday.
Indian car sales – viewed as a barometer of overall economic health – plunged to 133,747 units from 158,767 in the same month last year, the Society of Indian Automobile Manufacturers (SIAM) reported.
Rising sticker prices on the back of steeper commodity prices, higher fuel costs and 11 central bank interest rate hikes since March 2010 to tame near double-digit inflation have combined to hit demand, SIAM said.
"People want cars, they want mobility, but they may be postponing their purchases hoping interest rates will go down," SIAM director general Vishnu Mathur told reporters.
The Indian drop was the sharpest since November 2008 when sales fell over 19 percent as countries worldwide were buffeted by the global financial crisis.
India is the world's sixth-largest automobile market, surpassing France, Britain and Italy, and is expected to become the third-largest market globally by 2020, says information services firm JD Power and Associates,.
The Indian figures came as passenger car sales in neighbouring China, the world's top car market, rose by 6.7 percent year-on-year, continuing a trend of modest growth after Beijing ended buying incentives and sought to curb demand to ease traffic congestion in big cities.
The sales downturn in India and China comes as global manufacturers such as Ford, Renault-Nissan and GM have been turning to the emerging economic giants to help offset saturated markets in the West.
Mathur said Indian car sales could accelerate with a flurry of upcoming model launches beginning this month and the religious festival season starting in September – seen as an auspicious time for Indians to make new purchases.
"There could be a pick-up year-over-year but it won't be a significant rebound," Mahantesh Sabarad, auto analyst at Mumbai's Fortune Equity Brokers told AFP.
The SIAM executive said the group was sticking for the time being to its projection of a 10 to 12 percent rise in passenger car sales for this year after cutting its forecast once.
India's car sales grew by a blistering 30 percent to 1.98 million units last yaer when borrowing costs were lower and an increasingly affluent middle class snapped up new models.
Year-on-year sales of motorcycles and other two-wheelers jumped 12.6 percent to 1.06 million units in July as buyers plumped for cheaper transport while commercial vehicles sales climbed 23.70 percent to 84,241.
Mathur said the car sector's outlook was positive longer term thanks to India's highly under-penetrated market. Just one in 10 households in cities and one in 50 in rural areas own cars. ■