By Jean Malanum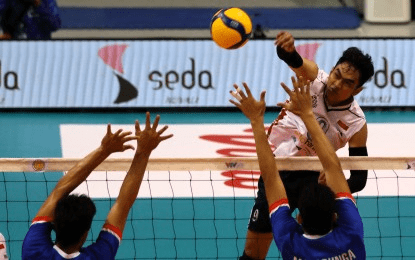 STA. ROSA, Laguna – Indonesia rallied past Thailand, 25-27, 20-25, 25-21, 25-21 15-9, to rule the second leg of the Southeast Asia Volleyball League (V.League) at the City of Santa Rosa Multi-Purpose Complex here on Sunday night.
First leg Most Valuable Player Fahry Septian Putratama had 17 points for the Indonesians, who also swept the Jakarta leg last week.
Four of Putratama's teammates received special awards, namely Farhan Halim (MVP), Boy Arnez Arabi (2nd Best Outside Spiker), Hendra Kurniawan (Best Middle Blocker) and Prasojo Prasojo (Best Libero).
Best Outside Spiker Jakkrit Thanomnoi scored 24 points for Thailand, which settled for the bronze medal after a silver medal-performance in the first leg.
"I am very happy that we won the SEA V.League. I am proud of my players," said coach Jeff Jiang Jie after the post-game interview. He steered Indonesia to the SEA Games title in Vietnam (2022) and Cambodia (2023).
"The Philippine team here played better than the one in Jakarta," added Jie, who noted the troika of Bryan Bagunas, Marck Espejo and Steven Rotter.
"They are good players, maybe no training for a long time with the team."
Indonesia will field the same team to the Hangzhou Asian Games, a tournament which Jie said "is very difficult to win with the presence of very good teams like Japan, Iran and China".
Japan is No. 4 behind Poland, United States and Italy in the men's volleyball world rankings. Iran is at No. 10 and China at No. 26.
Vietnam is at No. 53, Thailand at No. 58 followed by the Philippines, while Indonesia, owner of 12 SEAG titles, is at No. 68.
Meanwhile, Vietnam outplayed the Philippines, 22-25, 25-18, 25-20, 24-26, 15-8, to capture the silver medal with a 2-1 record.
Thuan Nguyen Ngoc paced Vietnam with 22 points on 17 attacks, three blocks and two aces. Thuan Tu Thanh had 19 points while Tuyen Tran Duy and Tien Duong Van added 18 and 11 points, respectively.
Truong The Khai received the 2nd Best Middle Blocker award while Dinh Van Duy was named Best Setter in the three-day Philippine leg.
Bagunas scored 21 points, Espejo had 20 points and back-to-back Best Opposite Hitter Rotter came up with 19 points for the Filipinos, who were beaten by the Vietnamese, 2-3, in Jakarta.
The SEA V.League is a series for men and women indoor volleyball among the Philippines, Thailand, Indonesia and Vietnam.
It is the brainchild of Philippine National Volleyball Federation president Ramon Suzara and Thailand Volleyball Association president Shanrit Wongprasert which aims to further strengthen and develop volleyball in the region.
The women's series will be held in Vinh Phuc, Vietnam (Aug. 4-6) and Chiang Mai, Thailand (Aug. 11-13). (PNA)