By Priam Nepomuceno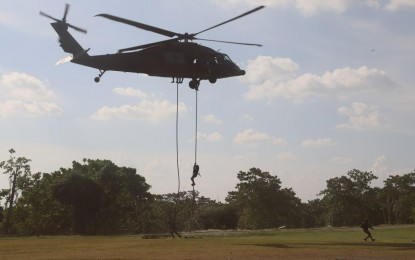 MANILA – Philippine Army (PA) and Philippine Air Force (PAF) personnel are now more knowledgeable in air-to-ground operations following the successful completion of five-day interoperability exercise (IOX) between the two services.
"The IOX 02-2023 enhanced the PA and PAF's interoperability, combat readiness, and effectiveness to showcase their capabilities, strengthen working relations, and evaluate tactics, techniques, and procedures to improve air-to-ground communication and operations," PA spokesperson Col. Xerxes Trinidad said in a statement Monday.
The PA and PAF IOX took place from Sept. 25 to 30 at 5th Infantry Division headquarters at Camp Melchor F. Dela Cruz in barangay Upi in Gamu, Isabela.
During the closing rites, Tactical Operations Wing Northern Luzon chief Brig. Gen. Rocky Binag said the IOX has enriched both the Army and Air Force with invaluable lessons and strong camaraderie among its troops, especially towards integrating and synchronizing operations in the military.
Some 836 participants from the PA and the PAF gathered to train on command post exercises, field training exercises and subject matter expert exchanges covering topics such as intelligence, surveillance, reconnaissance, air-to-ground operations, close air support, fast rope insertion extraction system, military free fall, hoist, communication and support system, and sustainment operations. (PNA)