By Joyce Ann L. Rocamora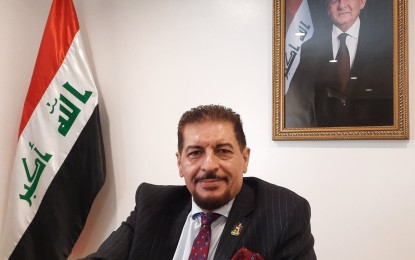 MANILA – Iraq is looking to reinvigorate its relations with the Philippines, eyeing possible increased interactions on agriculture, oil, health and security, its top diplomat in Manila said.
In an interview with the Philippine News Agency on Friday, Iraq Embassy Chargé d'Affaires Dr. Khalid Ibrahim Mohammed said Baghdad is hoping to convene the 8th Iraq-Philippines Joint Committee Meeting (JCM) and has also invited a delegation from the Department of Foreign Affairs (DFA) to visit Iraq this year.
The last JCM was held in Baghdad in March 2013.
The envoy said Iraq wanted to "renew" its cooperation with Manila against the backdrop of the new Iraqi government's roadmap to develop economy and improve life in the country.
"[W]e have a lot of topics in this JCM — in education, in health, economy, and also to try to restart the Filipino workers to come back to work in Iraq," he said.
"Actually, there is a lot of memorandum of understanding on the Iraqi and Filipino side, but one of the very important one is between the two foreign affairs ministries and now we would like to make a lot of memorandum of understanding," he added.
He said Iraq's need for qualified workers and experts to rebuild its infrastructure will serve as an opportunity for future exchanges between the two states.
On agriculture, Mohammed said Iraq hopes to get training and learn best practices from the Philippines on improving rice production.
The envoy also hoped Filipinos could visit the country as tourists in the future as he invited travelers to visit the ancient city of Ur, the birthplace of the Prophet Ibrahim Al-Khalil.
He said there are also several historical and cultural places foreigners could visit provided they book their trip through a travel agency.
After years of instability due to war, political turmoil, and the now-defeated Islamic State, Mohammed said the situation in Iraq has drastically changed and is now witnessing "great stability".
"Iraq is witnessing great security stability, especially after achieving victory over the ISIS (Islamic State in Iraq and Syria) terrorist gangs. Today, we are under a new elected government that seeks to fight corruption, (display) openness to all countries of the world, and achieve mutual benefit through investments," he said.
Iraq has been under alert level 3, where a voluntary repatriation advisory for Filipinos is in place.
The status has not been updated by the DFA since 2021 after it was lowered from alert level 4 or mandatory evacuation.
Diplomatic relations between the two countries were formally established on January 12, 1975, with the opening of the Iraqi Embassy in Manila.
In September 1980, the Philippine Embassy was inaugurated in Baghdad but was later relocated to Jordan in 2003 due to the Iraq War. It resumed operations in Baghdad in 2011. (PNA)