By Tom Ziller
Over the past couple seasons, "fit" has become a trendy word to use in assessing any trade, draft pick and free agent signing. Fit has always been important to decision-makers, but now it's getting its day in the sun with fans and armchair pundits. How else was a fawning audience to explain why OKC's darling GM Sam Presti passed up Tyreke Evans for James Harden? It was fit! And, as Presti well knows, it does matter. It's not empty buzz.
Some who heralded the new Heat forgot about fit; others, myself included, assumed basketball geniuses like LeBron James and Dwyane Wade could create their own chemistry, with a nod to the 2008 Olympic team. But here we are, with bad fit apparently sinking the Heat.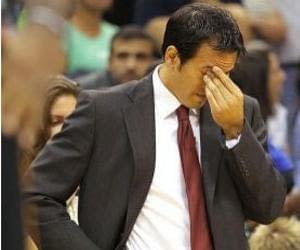 But that's not all. Erik Spoelstra is also (supposedly) killing the Heat with, depending on your perspective, a lack of creativity or willful mismanagement of his constellation. But we know, emphatically and empirically, that Spoelstra is not a bad coach. He took last year's version of the Heat to a 47-35 record. For stretches of the season, Quentin Richardson was the second-best player on last year's Heat team. That's not a joke.
Spoelstra is part Pat Riley – a grinder at heart, a guy who works 23 hours a day and demands the same from his players – and part Lawrence Frank – a X&O whiz kid. But because of the very nature of Miami's three "chill" bros, Spoelstra has had to be a bit heavier on the Riley, all while maintaining a delicate balance. That hasn't allowed his L-Frank side to come out. Or, these superstars are so heavy-handed that the Xs and Os have to come with a heavier dose of Drill Sergeant than Spoelstra can muster in his tenuous position.
So, while Spoelstra has both the chops to command this team and the brains to make it sing, he just isn't in the right spot to execute it all. It's just a bad fit.
Can we even grade coaches' abilities accurately? Terry Porter failed in Phoenix but had been pretty good in Milwaukee. The Suns' implosion left an indelible image of haplessness attached to Porter … but is he considered a bad coach now? He shouldn't be. He was a bad fit in Phoenix. Coaches are essentially role players – they don't have as big an impact as the league's stars, certainly; Phil Jackson himself couldn't coach the Pistons to .500. Like role players, coaches are only appreciated when the team wins, and only hated when things go terribly wrong. The reprehensible campaign to get Robert Horry into the Hall of Fame can attest to the former; our collective memory of Bryon Russell and Mike Brown nods at the latter.
Role players are difficult to assess, and fit is a huge priority. The same should apply to coaches. Vinny Del Negro made two postseasons in Chicago; some considered that – the wins – enough to deem V.D.N. a good coach. (He certainly had a good enough reputation around the league to immediately land another job while incredible candidates like Dwane Casey sit on the sidelines.)
With a very similar roster, Tom Thibodeau has taken the Bulls to an early 9-6 record through the circus road trip. Thibodeau's success colors V.D.N.'s Bulls' performance, but doesn't fully explain it (even as Del Negro's Clippers dive into the ocean).
With role players and coaches alike, fit and context is everything. That's why, perhaps, we shouldn't complain about the Former Head Coach Recycling Program so much – we recycle role players, after all, so why not give a guy like Rick Carlisle or Sam Mitchell another chance? That's how I'll feel about Spoelstra, should he eventually step aside in Miami. He'll deserve another chance with a team more suited to his stylings, a team that he fits into better.