By Joyce Ann L. Rocamora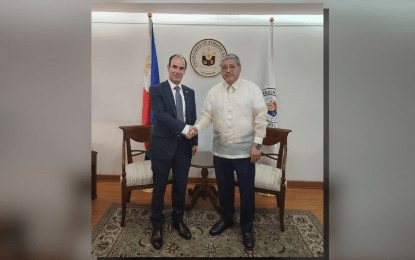 MANILA – Israel has promised to secure the crossing between Gaza and Egypt once the border is opened for foreigners, including Filipinos looking for a way out of the besieged enclave, the Department of Foreign Affairs (DFA) said Tuesday night.
The assurance was made during the meeting between Foreign Affairs Secretary Enrique Manalo and Israeli Ambassador to the Philippines Ilan Fluss at the DFA Office in Pasay City on Oct. 17.
DFA Undersecretary Eduardo Jose de Vega, who was also present during the meeting, said Israel and Egypt are coordinating to ensure that no members of the Hamas militant group will cross the borders.
"'Yong corridor pro-protektahan ng Israel kasi baka paputukan ng Hamas — a few kilometers lang 'yan pagdating sa Egyptian side ipro-proseso na 'yong mga arrivals ng Egypt (Israel will protect the corridor because the Hamas might fire on it — a few kilometers when the nationals get to the Egypt side of the border, the Egyptians will process their arrival)," he said in a DZRH interview Tuesday night.
"In fact, sabi nila (Israel) any day now pwedeng mangyari na 'yong bubuksan 'yong corridor (They said the opening of the border might happen any day now)," he added.
There are 135 Filipinos still inside Gaza Strip — one of the two territories under the State of Palestine — with some 78 already near the Rafah border with Egypt.
The number rose from the 131 Filipinos earlier reported after the DFA identified four more within the enclave on Oct. 17. (PNA)