By Joyce Ann L. Rocamora and Priam Nepomuceno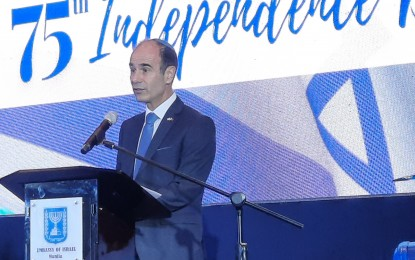 MANILA — Israel has expressed interest anew to take a "major" part in the Horizon 3 of the Armed Forces of the Philippines' (AFP) modernization program.
During the Horizons 1 and 2 of the program, Israel successfully delivered artillery, howitzers, and armored personnel and mortar carriers to the Philippines.
"Israeli companies are interested to continue what's started in the last few years where Israel has become I think an important and reliable supplier of quality and reliable equipment," Israel Ambassador to the Philippines Ilan Fluss said during the 75th Israel Independence Day reception Thursday night.
"We're looking into the future to the Horizon three modernization program. And obviously we do hope that Israel will also take a major part in the Horizon," he added.
Fluss said the two more Israeli Shaldag Mark 5 ships — fast attack interdiction craft-missile (FAIC-Ms) in the Philippine Navy (PN) — would be formally turned over soon as part of the nine vessels that the country contracted from the Israel Shipyards Ltd.
These FAIC-Ms, which will form part of the Navy's Acero-class patrol gunboats, is among the 2019 projects approved by former President Rodrigo Duterte under the Horizon 2 list of the modernization program.
The first and second Horizons project of the AFP modernization program was implemented from 2013 to 2022, resulting in the acquisition of Del Pilar-class frigates, FA-50PH light-lift interim fighters, and sealift vessels, among others.
The third phase or the Horizon 3 is scheduled to run from 2023 to 2028.
Meanwhile, Fluss also looks forward to the inauguration of the Israeli-upgraded shipyard in Cavite, the documents and keys of which were transferred by the Israel Shipyards Ltd. last month.
"This is part of knowledge transfer because the idea is that those Shaldags will be partly also assembled here and also maintenance will be done here in the Philippines," he said.
"There was an intensive training for the Philippine teams in Israel and soon we'll hand over those shipyards to be now led and run by the Philippines. This will happen very soon," he added. (PNA)