By Joyce Ann L. Rocamora and Priam Nepomuceno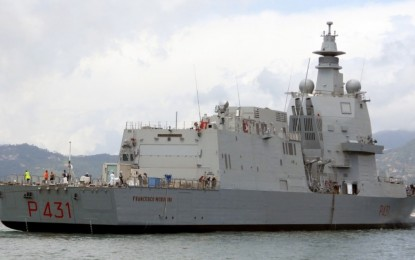 MANILA – The Italian Navy patrol ship Francesco Morosini is expected to make a port visit in Manila in July as Rome seeks to increase interaction with the Philippine Navy (PN), the Italian Embassy in Manila disclosed Tuesday.
The visit is part of the multipurpose offshore patrol vessel's five-month naval campaign in the Asia Pacific.
Italian Ambassador to the Philippines Marco Clemente said the port call is tentatively set from July 8 to 12 and specific details have yet to be finalized.
The Italian Navy, through Defense Attache Maurizio Pitton, earlier requested "combined elementary naval exercises" or passing exercises (PASSEX) with the Philippine Navy (PN) during the port call.
PASSEX, the envoy said, is normally offered by the Navy of a host country during visits of foreign navy units.
"They traditionally take the name of PASSEX and are carried out on the basis of opportunities and non-interference during planned transits of the ship involved. These are not pre-planned joint combined naval operations nor heavy exercises," he told the Philippine News Agency (PNA) in an interview.
Morosini left the Italian naval base in La Spezia early this month and will dock in at least 15 ports in Southeast Asia to strengthen Italy's naval diplomacy.
Upon its deployment, Chief of the Italian Navy Admiral Enrico Credendino said the vessel is sailing in a region where there Italy has a "strong strategic interest — military, diplomatic and political".
Credendino, in an April 10 Italian Defence Technologies report, was quoted as saying that the campaign seeks to develop Rome's "training synergies with foreign navies such as Japan, Australia, United Kingdom, United States of America" as well as show its flag "in very complicated waters, in some ways even more disentangled than those of the Mediterranean".
Morosini is the second ship of the Italian Navy's Multipurpose Offshore Patrol Vessel class.
Clemente said this ship is a "naval vessel of interest" for Southeast Asian nations as he touted its capability to perform both civil protection activities and military tasks, including patrol, logistics, transport and surface combat.
The visit will coincide with the 76th anniversary of Italy and Philippine ties since formal diplomatic relations between the two countries were formally established on July 9, 1947.
Last month, Pitton discussed with Rear Adm. Jose Maria Ambrosio Ezpeleta future collaborations between Italy and the Philippines with regard to the "new concept and new generation patrol vessels" that could help the Navy's ongoing modernization efforts. (PNA)