By Jean Malanum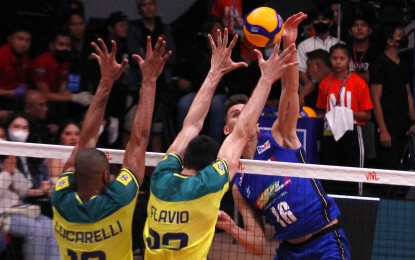 MANILA – Italy bounced back from an opening set loss to beat Brazil, 23-25, 25-20, 25-15, 25-21, at the start of the Men's Volleyball Nations League (VNL) Week 3 tournament at the Mall of Asia Arena in Pasay City on Tuesday.
Italy pulled out a 6-2 run that allowed the world's No. 4 team to break a 19-all deadlock in the fourth set en route to victory that boosted its playoff bid.
The Italians improved their win-loss record to 6-3 and tied Brazil for fourth place in the final preliminary leg of the 16-team VNL organized by the International Volleyball Federation (FIVB) and Volleyball World.
Spiker Yuri Romano topscored with 20 points, including four aces, for Italy, which absorbed a 19-25, 26-28,18-25, 20-25 setback from world No. 1 Poland last week in The Netherlands.
Only the top eight teams will qualify in the final round of the VNL which will be held in Poland from July 19 to 24.
Alessandro Michieletto had 17 points, Gianluca Galassi added 12 points on four blocks while Lavia contributed 10 points for Italy, which lost in the semifinal last year.
"We're very happy for this win. We need this in the standings. After losing the first set, we played well and won the next three. We're very happy. It's very important for our qualification," said Romano, who scored on an attack that put Italy ahead, 20-19 in the fourth set.
Henrique Dantas Nobrega Honorato finished with 15 points while Ricardo Lucarelli Souza and Flavio Resende Gualberto had 11 and 10 points, respectively for the Brazilians, who posted a stunning 25-20, 26-24, 19-25, 25-23 win over defending champion France last week.
Italy will face Canada next while Brazil will take on The Netherlands on Thursday in the event sponsored by PLDT, Rebisco, Akari and the Philippine Sports Commission with support from Fitbar, Instax Fujifilm, Fitness First, Pasay City, Taguig City, Diamond Hotel, Maynilad, Peugeot, SM MOA Arena, The Look and The Moment Group with Cignal, Inquirer Group, RMN, DOOH, One Sports, One Sports+ and Mega Mobile as media partners.
Meanwhile, Canada battles The Netherlands at 3 p.m. while Poland and Slovenia square off at 7 p.m. on Wednesday. (PNA)