By Benjamin Pulta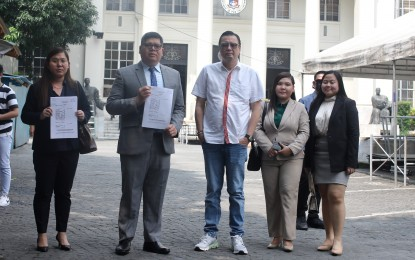 MANILA – Romeo Jalosjos Jr. on Friday filed his "main" motion for reconsideration before the Supreme Court (SC), asking the tribunal to take a second look at its August decision annulling his proclamation as Zamboanga del Norte's First District representative in favor of Roberto "Pinpin" Uy in the 2022 elections.
In his 68-page plea, Jalosjos argued that the Court erred in claiming the tribunal still has jurisdiction over the case even after he was proclaimed the winning candidate, took his oath of office before Senator Cynthia Villar and assumed office as a member of the chamber on June 30,2022.
Under the circumstances, Jalosjos claimed "the House of Representatives Electoral Tribunal, to the exclusion of any other court or tribunal including the Honorable Supreme Court, became the sole judge of all contests relating to his election, returns and qualifications."
The SC, in its ruling last August 8, directed the Commission on Elections (Comelec) to set aside Jalosjos' win and proclaim Roberto Uy Jr. instead as the rightful congressman.
The tribunal said it can still rule on the case and rule for Uy, as Jalosjos had not yet taken oath before the Speaker of the House of Representatives.
In disputing the ruling, Jalosjos said that to require an oath before the Speaker in open session for a proclaimed candidate to become a member of the House of Representatives "will lead to absurdity."
"Under the Constitution, the Speaker of the House must be elected by majority votes of its members. If there are no members yet prior to oath before the Speaker, who will elect the Speaker? How can a member be nominated as speaker if he himself is not yet a member of the House?" Jalosjos said in his plea.
He added that applying the ruling of the SC may result in an involuntary interruption in terms of office of all members of the House.
The case reached the SC after the Comelec declared as a "nuisance" another candidate, Frederico P. Jalosos.
On election day, Uy received 69,591 votes; R. Jalosjos, 69,109 votes; F. Jalosjos, 5,424 votes; and Amazon, 288 votes.
After the Comelec declared Frederico a nuisance and that votes cast for him should be voted in Romeo's favor, Uy then filed a petition before the SC which issued a status quo ante order on July 12, 2022. (PNA)