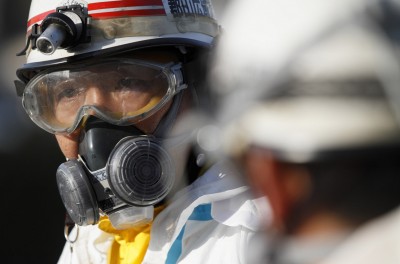 TOKYO, March 18, 2011 (AFP) – UN International Atomic Energy Agency chief Yukiya Amano said Friday that Japan's battle to stabilize a crippled nuclear power plant was "a race against time".
Speaking in Tokyo, 250 kilometers (155 miles) away from the stricken Fukushima Number One plant, Amano also said the IAEA had brought its own monitoring equipment to test for radiation levels in the Japanese capital.
"This is a very grave and serious accident," he said after meeting Prime Minister Naoto Kan, referring to the explosions and fires that have hit the plant where workers were using fire engines to douse overheating fuel rods.
"So it is important that the international community, including the IAEA, handles this jointly," Amano told reporters. "Especially cooling (the reactors) is extremely important, so I think it is a race against time."
The UN atomic watchdog will hold a special one-day meeting of its board of governors on Monday, where Amano will brief member states on his assessment trip to quake-hit Japan.
Japan's nuclear safety agency on Friday raised the Fukushima crisis level to five from four on the international scale of gravity for atomic accidents, equal to the 1979 accident at Three Mile Island in Pennsylvania.
The plant was crippled by last week's massive 9.0 magnitude earthquake and tsunami that devastated swathes of northeastern Japan, with its cooling systems failing and triggering a series of explosions and fires.
"As a first step of our support, I came here with a radiation monitoring team," said Amano. "The team will begin monitoring radiation levels in Tokyo as soon as tonight. I hope they will move up to Fukushima."
The IAEA chief also said he had met the vice president of the plant's operator, the Tokyo Electric Power Company.
"I told him that information disclosure is extremely important," Amano said. "I asked him to disclose further information. He replied that his company wants to act in consideration of that."
He was also asked if concrete should be dumped on the plant, as was done in Chernobyl.
"I'm not a technical expert," he said. "The most important thing now is to inject water… Recovering or restoring the power supply from outside is another priority."
Amano also said: "Pouring water is extremely important in order to cool down the spent fuel rods. I hope this will be achieved successfully."
Asked whether many countries would now hesitate to construct nuclear reactors, Amano said the requirement for energy means nuclear power still has a role to play.
"Humans need a stable source of energy. Humans need a source of energy that can mitigate the negative impact of climate change," he said.
"Nuclear power is one of the options."