By Filane Mikee Cervantes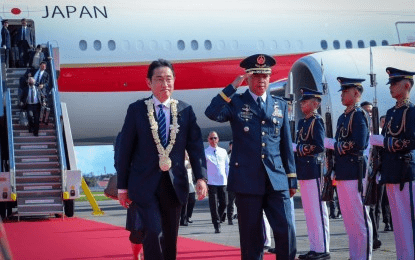 MANILA – With the official visit of Japanese Prime Minister (PM) Fumio Kishida to Manila, House appropriations committee chairperson Elizaldy Co said on Friday he considers Japan as a vital ally of the Philippines in terms of economic development and geopolitical stability.
Anticipating Kishida's speech before the special joint session of the 19th Congress on Saturday, Co said the foreign leader would "see and feel" he is among friends during his address.
Co also acknowledged the numerous completed and ongoing projects and programs with the strong and steadfast support of modern Japan.
He particularly noted the Japan International Cooperation Agency (JICA)-supported project for the Philippine Coast Guard, which enhanced capabilities in vessel operation and maritime law enforcement.
"We of AKO BICOL Party-list are particularly appreciative of the nearly 97 different JICA-funded projects underway in the Bicol Region. With the help of JICA, lives of Bicolanos are being transformed for the better and for a progressive future," Co said.
"I also take this opportunity to express the hope that PM Kishida's visit to the Philippines, will open opportunities for exchanges of faculty and students of Bicol University with their counterparts in some of Japan's top universities and colleges," he added.
Bagong Henerasyon Party-list Rep. Bernadette Herrera also echoed Co's sentiment, saying that Japan is a "faithful partner" of the Philippines in economic development and geopolitical stability.
"We strongly appreciate the ongoing active engagement of Japan and Prime Minister Fumio Kishida with the Philippines, ASEAN, and the rest of the world. In my eyes, Japan is the real and balanced leader here in the Western Pacific region because of its productive and harmonious interaction with its neighbors," Herrera said.
She expressed support for giving Japan the opportunity to complete projects that had been "abandoned" by other countries as a result of failed appeasement foreign policy.
Speaker Martin Romualdez earlier said Kishida's visit is expected to open new doors of collaboration that are mutually beneficial for the two countries.
"It is with great anticipation that we look forward to his address to the Congress of the Republic of the Philippines. The House of Representatives, as the honored venue host of this significant event in the Batasang Pambansa Complex, is committed to exerting all efforts to ensure that Prime Minister Kishida's visit is both fruitful and memorable," Romualdez said.
Romualdez said Kishida's visit is expected to cover a wide range of very important topics, with focus on strengthening the excellent relations and exploring opportunities for the two countries.
He said the Philippines and Japan are committed to turning the two-day visit into concrete collaborations that would not only strengthen bilateral relations but also contribute to global peace and prosperity.
"This visit, symbolizing the deep and long standing bond our nations have forged, built on mutual respect, shared values, and a unified vision for peace, stability, and prosperity in the Asia-Pacific region, signifies the strength of our bilateral ties," Romualdez said.
"On behalf of the Filipino people, I extend our heartfelt appreciation to Prime Minister Kishida and wish him a successful and impactful visit to our shores," he added. (PNA)