By Joyce Ann L. Rocamora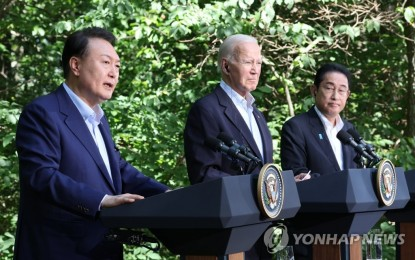 MANILA – Tokyo reaffirmed on Saturday its support for the 2016 Arbitral Ruling on the South China Sea as it agreed in a historic first to enhance security cooperation with the United States and South Korea amid rising challenges in the region.
"At historic (Japan, US, South Korea) summit, leaders strongly oppose China's offensive acts of unlawful maritime claims in South China Sea, in particular, dangerous use of coast guard, maritime militia vessels and coercive activities," Japanese Ambassador to the Philippines Kazuhiko Koshikawa posted on X (formerly Twitter.)
"Compliance with 2016 Arbitral Award and UNCLOS (United Nations Convention on the Law of the Sea) is vital for the region," he added.
The landmark ruling, issued by the Hague-based Permanent Court of Arbitration in July 2016, upheld the Philippines' sovereign rights and jurisdiction in its exclusive economic zone, including the Ayungin Shoal, which sits 105 nautical miles off mainland Palawan province.
Japan was among the nations that called out the Chinese Coast Guard's use of water cannon against Philippine boats en route to resupply the beached BRP Sierra Madre at the Ayungin Shoal on Aug. 5.
US President Joe Biden, Japanese Prime Minister Fumio Kishida and South Korea President Yoon Suk Yeol agreed in a trilateral summit at the Camp David US military base in Maryland on Aug. 18 to elevate their trilateral security cooperation against what they described in a joint statement as "dangerous and aggressive actions" of China and the attempt to "unilaterally change the status quo in the Indo-Pacific waters." (PNA)