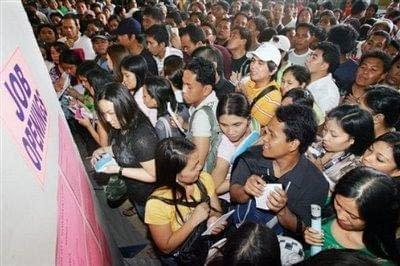 MANILA, December 15, 2010 (AFP) – More than one in four adults in the Philippines are jobless or are looking for more work despite strong economic growth this year, the government said Wednesday.
The October unemployment rate stood at 7.1 percent, unchanged from a year earlier but up slightly from July's 6.9 percent, according to the latest quarterly report from the National Statistics Office.
The rate of underemployment – people working less than 40 hours a week and looking for fuller employment — jumped to 19.6 percent in October, from 19.4 percent a year earlier and 17.9 percent in July.
The weak employment numbers came despite the economy growing 7.5 percent in the first three quarters of the year.
Economic Planning Secretary Cayetano Paderanga acknowledged the government was struggling to weaken the stubbornly high unemployment rate and said it may get worse as more people seek work after seeing the economy on the upswing.
"The possible influx of more encouraged workers into the labour force in the near term would put more pressure on the labour market," he said in a statement.
The official figures also understate the employment problems in the Philippines, where a third of the population lives on a dollar a day or less.
Although 61.2 million of the Philippines' 95 million people are aged 15 and over, the statistics agency said just 39.3 million could be considered part of the labour force, with many others not even looking for work.
The October data also showed that one in three members of the Filipino workforce were unskilled.
Foreign business leaders in the Philippines say that to cut widespread poverty, annual economic growth must reach 9-10 percent and overseas investments need to rise more than 40-fold to 75 billion dollars.
This would create 10 million jobs yearly instead of just the one million or so being created now, seven chambers of commerce said in a study released on Monday.