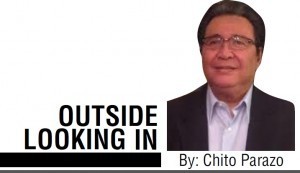 It is about time that Vice President Jojo Binay should stand up and be man enough to face his accusers regarding allegations of widespread corruption against him and his family while Mayor of the city of Makati for 21 years.
VP Binay and his family are the subject of the Senate blue ribbon committee probe regarding the P2.7 billion carpark building in Makati constructed during the vice president's term as city mayor. A plunder complained has been fild with the Ombudsman against Binay, his mayor son, "Junjun" and his wife Elenita, former Makati mayor herself and her Senator daughter, Nancy Binay.
During hearings at the Senate blue ribbon committee, more anomalous transactions have been divulged by witnesses against Binay and his family, prompting the committee to expand its probe.
The Senate cited a COA report that uncovered a major problem in the city's financial records, including  a P57.96 million discrepancy between the city's cash in bank and the balance recorded by the city' accountant.
Senate probers are also looking into a P627.8 million disallowed purchases or expenditures already made or approved  but later on deemed by COA to be unallowable. Audit reports also showed the overpricing of medical equipment to the Ospital ng Makati, basic office supplies and oil and lubricants used by vehicles assigned to the offices of the mayor and vice mayor.
Despite all these corruption charges, Binay remain silent and insisted that he is a victim of a demolition job by his political opponents. Despite his diminishing political "stardom," Binay is still the presumptuous presidential candidate of the opposition in the 2016 national election.
The latest poll survey conducted by Pulse Asia showed a 15 percent drop in the approval ratings of Binay. The survey was conducted at the height of a Senate probe regarding allegations that Binay and his family benefitted from the overpriced carpark building.
The latest thing to crop up against Binay and his family is his supposed ownership of a 350 hectare property in the town of Rosario, Batangay. Residents of the town of Rosario, when asked by media men, are familiar with the property of the vice president.
However, the Municipal Assessor's Office said that no record of Vice President Binay owning a piece of land in the area. Of course this is expected to be denied. They are afraid to put Binay in a bad light considering that he might one day be the president of the Philippines. This is a no brainer.
The 350-hectare property mentioned by witnesses against the Binay family is reportedly owned by Sunchamp Real Estate Development Corporation, engaged  in the development  of self sustaining agri-tourism areas. It is owned by a Chinese businessman named Antonio Tiu. Senator Antonio Trillanes claimed that Tiu has links with the Binay family and he can prove it.
After these latest discoveries  of alleged nefarious activities of the vice president, the public is anticipating that more anomalous transactions and unexplained wealth will be uncovered with the next few days or weeks. It seems that every day, something new is revealed to the public.
The only way for Binay to remain credible to the voting public is to provide an honest answers to all the accusations against him and his family. He can no longer claim that he is just victim of a political demolition job.
Binay must respond quickly to all the issues against him  since there are so many serious charges of corruption during the years he served as mayor of Makati.
Seriously, I do not believe that Binay will go to jail despite all of the corruption he and his whole family did while he was the chief executive of the city of Makati. He is a loyal friend  and still maintain a close relationship with President Noynoy and his sisters.
His sisters, in an interview said that Noynoy is an exact replica of their mother. They said that what their mother did during her presidency is what Noynoy will do. Do Anyone still remember what President Cory did to his loyal friend and Speaker of the House Ramon Mitra Jr.
Instead of anointing him to be her successor,he named then Defense Chief Fidel Ramos as her choice to be the next president. Not long after the election, Mitra suffered a heart attack and died a sad and bitter man. Of course the election was rigged to ensure that Ramos will be the eventual presidential winner over Senator Mirriam Santiago and Businessman and former Ambassador Danding Cojuangco.
So who do you think Noynoy will anoint to succeed him? Roxas or Binay?