By Nimfa U. Rueda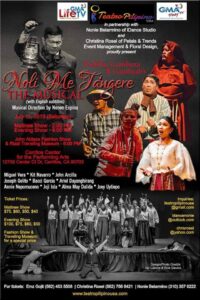 At a time when the use of digital technology is hampering people's attention spans, entertainer Joseph Gelito has had to be very creative with his stage antics.
He dazzles his audiences with killer punchlines and sizzling one-liners. His comedy shticks with drag queens are outrageous.
This Saturday, he will embark into a more serious territory – playing the role of Kapitan Tiyago, the father of Maria Clara, in Dr. Jose Rizal's Noli Me Tangere: The Musical.
Here's our Q&A with Joseph:
Q: Why did you decide to become a part of this musical?
A: I wanted to review the story of "Noli," which I have forgotten. Actually, I did not fully understand it when we studied the novel in high school. I wasn't much of a book reader. Now I fully understand and appreciate it by being a part of the play. It's not merely reading (the novel) but living it as one of the characters. I also wanted to be a part of a quality production I can be proud of.
Q: What makes you proud of this production?
A:  It was originally staged at the Cultural Center of the Philippines. The costumes are provided by CCP's Teatro Pilipino. The costume design and production are well researched. I'm very excited to sing songs composed by national artist Bienvenido Lumbera and be a part of a Ryan Caybabyab musical. Nonon Padilla, a Philippine theater icon, directed this musical. Talented professionals and stage personalities are restaging his obra at the grand Cerritos Center for the Performing Arts. How can I say no to this project? How can I resist?
Q: One of the producers, Nonie Belarmino, said he would like the next generation of Filipino Americans to watch the show and learn about Philippine history and culture through this production. Do you share this advocacy?
A:  Definitely. I wanted to be a part of a project that will bring back our Kababayans to our historical roots through musical theater.
Q: How do you channel Kapitan Tiyago, who's very different from the characters you play in the comedy circuit.
A: I have to step into a very different character and forget about the typical comedian singer in karaoke joints.  I have to prepare emotionally and physically to effectively portray a different persona. I've challenged myself to not be recognized as Joseph the comedian but as an aging Kapitan Tiyago who is hypocritical and corrupt but also a loving and clueless father of Maria Clara.
As Kapitan Tiyago, I'm "sipsip" to influential people like the friars and high-ranking government officials. Matalino at ganid.  I'm using my charm para hindi halata. I'm similar to Kapitan Tiyago that way (laughing). We're both charming, sociable…the life of the party. Our energy is larger than life.
Q: How are you different from Kapitan Tiyago?
A: He will sell his principles…his soul, for a price. Not me. But I will sell my body (laughing).
Dr. Jose Rizal's Noli Me Tangere: The Musical, returns to the Southland Saturday, July 11, at the Cerritos Center for the Performing Arts, presented by Teatro Pilipino USA, in partnership with Nonie Belarmino of iDance Studio and Christina Rosel of Petals & Trends Event Management & Floral Design.