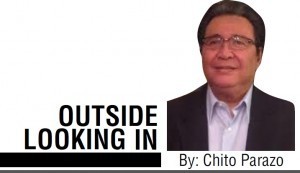 If Senator Antonio Trillanes' exposé is true that some cases in the Court of Appeals are being decided not on merits but on how much a person facing a lawsuit is willing to pay a judge to get a favorable ruling is both alarming and despicable. In response, the Integrated Bar of the Philippines said it will initiate its own investigation regarding the alleged bribery. Trillanes himself is facing libel charges filed by suspended Makati Mayor Junjun Binay before the Makati Regional Trial Court after stating that two CA justices allegedly received P25 million each from the Binay camp.
The Supreme Court refused to be drawn in the bribery scandal. Supreme Court Chief Justice Sereno promised to initiate a probe if Senator Trillanes will come up with hard evidence against erring CA justices. She also shut down the proposal of Trillanes for the Senate to initiate a separate investigation. But Sereno said only the Supreme Court has the power to investigate erring justices or judges suspected to be involve in bribery.
It is often said that a corrupt judicial system not only violate the basic right to equality before the law but also deny the procedural rights of individuals  guaranteed by the Constitution. If the allegations are true, these corrupt judges or hoodlums in purple robes must be booted out from office and jailed if we want to live in a place where there is an equal opportunity for everyone to live a life with dignity.
Corruption in the country has become pervasive. Every government official thinks that it is their God-given right to make a "fast buck"  while in office. No wonder, even some of our "honorable" judges are now doing it.
This is not the first time that a judge or a justice has been involved in a scandal. Last year, the Supreme Court dismissed Sandigan Bayan Associate Justice Gregory Ong  after he was linked to pork scam mastermind Janet Napoles, who was just convicted for kidnapping Benhur Luy, the main witness in the pork barrel scam.
According to Trillanes, those who accepted bribes were CA Justices Jose Reyes Jr. and Francisco Acosta of the 6th division. Both were accused by Sen. Trillanes of each "pocketing" P25 million to prevent the temporary suspension  of Mayor Binay  over corruption charges. The country has 23 CA divisions with 66 members. Both justices were responsible for issuing a temporary restraining order (TRO) and preliminary injunction that forestalled the Office of the Ombudsman and the Department of Interior and Local Governments (DILG) from carrying out the six-month suspension order against Binay.
Prominent lawyer "Pancho Villaraza was "fingered" by Senator Trillanes as the "facilitator" of the bribe given allegedly by the family  of Vice President Jejomar Binay to save the "neck" of his beleaguered son.
As a former newspaperman from Manila Bulletin, I heard several "amazing" stories about Attorney Villaraza. He has been known as an influential lawyer and political operator with strong ties with politicians and government officials. They said that with Villaraza as your lawyer, "everything is possible." He is also the personal counsel of former President and now Congresswoman Gloria  Arroyo. He is also reportedly supporting the candidacy of Vice President Binay  in the 2016 national election.
Both of the accused justices have no other choice but deny the allegations made against them by Trillanes. Villaraza also denied having anything to do with the alleged bribery. He said the younger Binay is not even a client of his firm.
Vice President Binay's reputation has been besmirched  so many times as a result of his unexplained wealth, multi -million-peso "Hacienda Binay" and for his alleged involvement in the P2 billion overpriced Makati car park building. He has also been accused by his former friend and Makati Vice Mayor Ernesto Mercado of getting 15 % commission for every condominium property erected in Makati.
So who do think is lying? The Binay family, Trillanes or the two justices and the high-profile lawyer? If you will ask me, I will say it's the Binay family. Just like his friend, President BS Aquino, Vice President Binay has been accustomed to lying, being a lawyer and a politician for so many years.
I hope the IBP will initiate a thorough investigation on Trillanes' revelations in order to cleanse the judiciary of hoodlums in robes.