Justin Beiber's legions of followers were shaking their heads in dis-Belieb last night after jazz artist Esperanza Spalding beat the teen idol as the Grammy awards' best new artist. Shortly afterward, they took to Twitter to voice their dissatisfaction.
"Wow…#bieberwasrobbed. He so should have won best new artist!! No one even knows who this spalding chick is," wrote @victoryapl, and @mattdgren echoed her sentiment: "I've never heard of Esperanza Fever."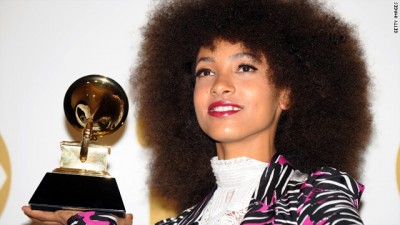 @sarajoallocco noted, "Best New Artist should now be called Artist You'll Never Hear From Again," while @EugeneRamirez perhaps summed it up best: "The Grammy judges better watch their backs! A bunch of tween girls are out to get you now!"
But the disses didn't stop there. Some fans also went to Spalding's Wikipedia page and added entries that were considerably more irate, including this sentiment: "She now has the 2011 Grammy for being the Best new Artist! Even though no one has ever heard of her! Yay!" (At the time of this post, Spalding's Wiki page – which had been down for a bit – was back up, and reflected a more reasonable tone. "On Thursday 2 December 2010, Spalding became a Grammy nominee for 'Best New Artist,'" the page reads under "Critical Reception. "On February 13, Esperanza won the Grammy for Best New Artist.")
If people didn't know who Spalding was last night, they certainly do today. As of this morning, her name was a trending topic on Twitter and reaction has been a bit more kind.
"Her name is Esperanza Spalding. That's like… a Disney Princess and a basketball," wrote @kingsleyyy. "But congrats to her."