LAS VEGAS – KALAHI Philippine Folkloric Ensemble (aka KALAHI, for short) presents "Pagsuyo," a show featuring vignettes of Filipino traditional courtship through dances and love songs on Saturday, February 5, 2011 at the Sun City Anthem Freedom Hall located at Independence Center, 2460 Hampton Road in Henderson, Nevada 89502.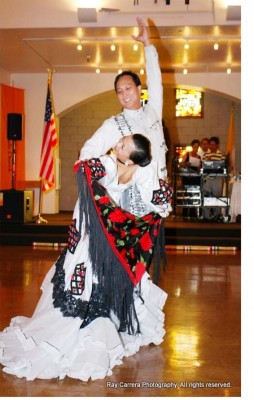 "Pagsuyo" will have two shows: a Matinee at 1:30 p.m. and the Gala show at 4:30 p.m. Matinee tickets are at $12 apiece, while the Gala show tickets sell for $20 per.
This was learned by Balita-Las Vegas from Myrna Fontillas-Alforque, co-founder and chair emeritus of KALAHI over the week-end.
"Pagsuyo", just in time for Valentine's in February, showcases the romantic tradition of Filipino courtship by way of ethnic and folkloric dances and love songs. The show is the first full theatrical production of KALAHI Philippine Folkloric Ensemble in tandem with International Cultural Connection Club of Sun City Anthem.
KALAHI is a Las Vegas-based cultural group dedicated to promoting the rich Philippine tradition and culture through songs and dances even as it fosters a renewed consciousness and a true appreciation of Filipino cultural heritage. Founded on September 9, 2009 (09/09/09), the group seeks to preserve and promote Filipino culture in America through the visual and performing arts. It shares the passion for Filipino folk dances and other Filipino performing arts such as choral singing, and celebrating significant events in Philippine history. Through its performances, it promotes and encourages non-Filipinos to participate, learn and appreciate cultures other than their own.
KALAHI's emblem, the sarimanok, a mythical bird that signifies peace, prosperity and good fortune, represents unity as it travels from one island to the other bringing together the Philippine archipelago. KALAHI members wear the traditional sablay, a plain yet sophisticated piece of loose clothing that is worn circumferentially from the shoulder down across the chest towards the hip. The sablay denotes the colorful sarimanok as it rests on the KALAHI member's right shoulder, the alibata figures (meaning kalahi), and the inter-woven patterns of various Filipino fabrics (the tinalak, barong, sinamay, tubao, hablon, and tapis/bahag) depicting indigenous Philippine tribes of the colonial era.
The donning of the sablay on every KALAHI member's shoulder denotes passion, commitment and responsibility of every KALAHI member to promote Filipino culture wherever he/she may be.
Since its successful and colorful investiture last September 18, 2010 at the Luxor hotel & Casino, KALAHI has performed almost non-stop in various Asian community and mainstream functions, spreading Philippine culture and tradition, living up to its quintessential mission.
For further information, sponsorships, and tickets for "Pagsuyo", please call Myrna Alforque (702) 348-9286, Jaei Tan (702) 882-8484, Emma Williams (702) 218-4595; Gene Santos (702) 481 -8528, Rey Espina (702) 595-5988 and Regina Melendez (702) 353-0030. (Zen S. Laluna)