OVERVIEW
By Lydia V. Solis
To celebrate the Philippines' 113th Independence Day, the Kalayaan 2011 Executive Council plans a night of cultural dance and song.
The 113th Anniversary Gala Dinner Ball on June 11th unfolds at the Sheraton Universal Hotel at 333 Universal Hollywood Drive, Universal City, Calif., which is located at the back lot of Universal Studios, Hollywood.  The event is made possible with the cooperation of the Philippine Consulate General, Philippine Department of Tourism, and Philippine Trade and Investment Center.
General Emilio Aguinaldo set the mood in May 1898, when he announced: "Divine Providence is about to place independence within our reach. An American squadron would soon arrive to bring arms for the revolutionists." Spain's colonial rule ended at the Battle of Manila Bay during the Spanish-American War.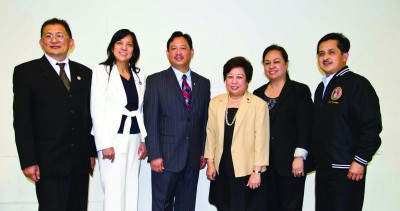 On June 12, 1898, Filipino revolutionists under Gen. Aguinaldo proclaimed our independence from Spain, when the pragmatic nationalist general unfurled the Philippine flag in Kawit, Cavite. He not only established the first Philippine Republic (and later became the first president), but he also pioneered the first constitutional democracy in Asia. The United States, however, did not recognize our independence until July 4, 1946; but in 1964, former President Diosdado Macapagal officially proclaimed June 12 as our Independence Day or "Araw ng Kalayaan."
Consul General Mary Jo Bernardo Aragon supports the 113th celebration of our Independence Day and asked the stakeholders of the event to help each other, during a general assembly held recently at the Rizal Hall of the Consulate. She added that Deputy Consul Dan Espiritu will work with the Kalayaan 2011 Celebration Committee.
"Sana mag sama-sama tayo," she said. "This celebration is for and by the community. We should be proud of our heritage. It is important that we show our friends here in California that the Filipinos were one of the early groups of immigrants to establish official presence in America in 1947, when the first Philippine Diplomatic Post was established. That Post has since been elevated to become the Philippine Consulate General in 1954, after seven years."
"Each year," says Grand Chair Leo A. Maranan, "this event brings our community together and makes us all remember that we have a common heritage and love for our culture."
Only a limited number of guests get to sway to the lilting guitar of harana songs, with the beats of kulintang uplifting their soul. Maranan has opted for quality versus quantity.
"This year, he stated, "we planned to have limited attendance, as it is our desire to provide a comfortable setting and great seats for all attendees so they will enjoy a different style of entertainment which we will prepare." However, the Council is prepared to make adjustments should there be an overflow of guests.
The Kalayaan Gala Event chair is the San Fernando Valley Filipino American Chamber of Commerce headed by Joe Arciaga and Rodel Lumanog, who is also the program chair. Mary Ann Omega, Chamber VP, is serving as secretary with Susan Castillo as treasurer.
"Maranan joins the list of illustrious Filipino American Chamber of Commerce San Fernando Valley leaders," Omega states, "who had chaired the past Kalayaan events; namely, Lucy Babaran in 2005, Lydia Soriano in 2007, and Noel Omega in 2008 – living proof that our Chamber is a power house of community leaders and visionaries."
Members of the 113th Kalayaan 2011 Celebration Committee are past Kalayaan chairpersons and community leaders, including Willie Manacsa, former "governor" of the United Batanguenos of Southern California, who will set the tone during the gala's festivities as the band leader of the Midnight Motion Band.