By Priam Nepomuceno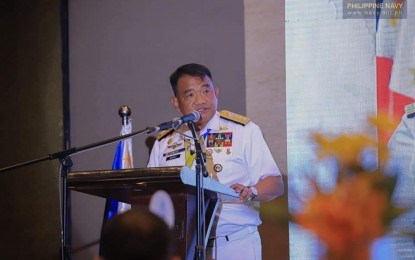 MANILA – The Philippine Navy (PN) needs to participate in exercises such as the "Kaagapay ng mga Mandirigma ng Dagat" or "Kamandag" to fully develop its capabilities to defend the nation against all forms of threats, its chief said on Thursday.
"For the PN, it is imperative that our forces actively participate in such training endeavors to upgrade and develop our capabilities toward fully realizing our vision to become a modern and multi-capable naval force," Navy Vice Adm. Toribio Adaci Jr. said in his speech during the exercises' opening ceremonies in Fort Bonifacio, Taguig City.
The annual drills would run until Nov. 17 in various locations in Luzon and Mindanao.
"By actively engaging in military-to-military training, we also reaffirm our commitment to achieving the highest levels of proficiency and operational readiness of our forces so we can contribute significantly to our maritime nation's overall defense posture," Adaci noted.
He said the annual exercises between the Philippine Marine Corps (PMC) and the United States Marine Corps (USMC) is more than just a routine military exercise.
"This is a demonstration of the strength and resilience of the partnership between the Philippines and the US, as well as our alliance with Japan, the Republic of Korea, and the United Kingdom (UK)," Adaci said.
About 1,732 PMC personnel will join the exercises' seventh edition, along with 902 from the USMC. Also taking part in the exercise are 57 personnel from the South Korea (Republic of Korea) Marine Corps and 50 from the Japan Ground Self-Defense Force.
Last year, South Korean and Japanese troops merely acted as observers in the 2022 iteration of "Kamandag," which took place from Oct. 3 to 14.
Meanwhile, eight personnel from the UK will act as observers for the first time.
"('Kamandag' is) purposefully designed to enhance bilateral cooperation and interoperability among participating forces, with a specific focus on improving capabilities in special operations, coastal defense, HADR (humanitarian assistance and disaster response) operations, and CBRN (chemical, biological, radiological and nuclear defense) support, all in line with operationalizing the Archipelagic Coastal Defense Concept," Adaci said.
PH commitment to regional security
Meanwhile, PMC commandant Maj. Gen. Arturo Rojas said "Kamandag" shows the country's commitment to achieving "regional readiness" and contributes to a secure and stable environment.
"We showcase our ability to work side by side in pursuit of our shared objectives. Together, we send a powerful message to the world, especially to those who may seek to disrupt the peace: that our partnership is unbreakable, our resolve unyielding, and our commitment to defending our nations is always unwavering," he added.
Rojas also said "Kamandag" has been an excellent platform for the PMC to deepen its understanding of its allies' capabilities.
"It provides us an avenue to learn from each other, exchange ideas, and foster a spirit of innovation and excellence. As we engage in joint and combined training, we strengthen our ability to operate seamlessly together, further enhancing our interoperability and coordination," he added. (PNA)