Looks like Kate Middleton is good for business.
British retailer Harvey Nichols has revealed that the sapphire-blue Issa dress worn by the future royal sold out within 24 hours of her announcement of her engagement to Prince William, Vogue U.K. reports.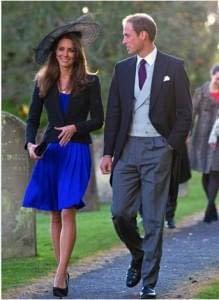 "Since the announcement of the royal engagement we have been inundated with requests regarding Issa," Harvey Nichols' buying director Averyl Oates told the magazine.
"The dress worn by Kate sold out almost immediately.
"Issa is one of our best-selling brands and the versatility of the pieces mean that they can be dressed down for the day and dressed up for special occasions."
Like that day when you land a hot prince.
While the dress has created buzz that Middleton may tap Issa designer Daniella Helayel to make her wedding dress, the bride-to-be's sapphire-and-diamond engagement ring – an heirloom from Princess Diana – has also gotten a lot of love.
Jewelers have been hit with requests for copycat rings, the Associated Press reports.
"We're in a frenzy," Michael Arnstein, CEO of the National Sapphire Co., told the news service.
"This is changing our business overnight."
Yikes. Remind us to steer clear of any bridal boutiques right after the wedding. We don't want to get trampled.
By Erin Donnelly