By Joan Raymond
Americans looking to slim down for summer may soon be cheering "Vive la France" when "The Dukan Diet" book makes its American debut on April 19th. But U.S. nutrition experts are already saying "mon Dieu!" about yet another carb-hating, protein-loving, weight-loss plan.
The Dukan regimen invades America just as speculation builds that Kate Middleton and her mum are following it to lose weight for the royal wedding. Carole Middleton, mother of the princess-to-be, has claimed to be a Dukan fan, telling the British press it helped her lose four pounds in four days. In the U.S., Dukan has been gaining buzz through celebrities like Jennifer Lopez and Gisele Bundchen, both of whom reportedly lost their baby weight on it.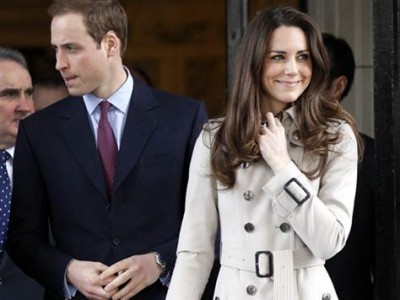 The four-phase, high-protein Dukan Diet, published by Hodder & Stoughton, is Atkins with a French twist. While Atkins encourages consumption of "natural fats" like those found in olives and avocados, if you go Gallic, get ready to live on lean meats, no-fat cottage cheese and seafood. Oh, and oat bran. You'll be consuming it during all four phases, along with liters and liters of water. Plus, there's lots of exercise.
The Dukan program, already wildly popular in Europe and England, starts with an "attack" phase — about two days to a week or so — allowing only as much lean protein as you can stomach. Limited amounts of previously forbidden foods like fruits, whole grains and 28 approved vegetables (no potatoes!) are added in later phases.
Eventually, you can eat what you want as long as you have a protein-only day once a week.
The promise is you'll lose about seven to 10 pounds in the first five days alone. But France's National Agency for Food, Environmental and Work Health Safety names it as one of 15 diets that are potentially risky. The British Dietetic Association doesn't think much of it either, naming it as one five worst diets of 2011.
It's calories, not the carbs
One American who won't be copying Kate is Linda Schuster of Cleveland, Ohio, who remembers her bout with a protein-centric approach years ago. The normally well-mannered Schuster became a self-described, "rhymes with witch," she says. "Without my beloved carbs, I was just no fun."
However, that may have more to do with dieting itself, rather than the lack of carbs.
In a recent study, researchers from Northwestern's Kellogg School of Management and the University of California, San Diego, found that exercising personal restraint, such as going on a diet, can make a person more likely to behave aggressively toward others.
Researchers do believe there is a connection between food and mood, but it's not as clear as you might think, explains obesity researcher Madelyn Fernstrom, professor of Psychiatry, Epidemiology, and Surgery at the University of Pittsburgh School of Medicine and TODAY contributor.
"The reality is that carbs aren't going to make you hold hands and sing 'Kumbaya,' potatoes aren't Prozac and high-protein, low-fat diets aren't going to make everyone lean over the long term," she says.
The moodiness some folks experience on restrictive diets stems from nutritional imbalances, limited food choices, lack of energy, and in the case of high-protein diets, side effects like bad breath, dry mouth, fatigue and constipation — something that Dukan does warn about.
"I've seen clients who say they feel woozy and out of sorts when they see me after being on a low-carb diet, but any time you eliminate healthy foods, there's going to be some problem," says American Dietetic Association spokesperson Andrea N. Giancoli, a Nutrition Policy Consultant with the California Center for Public Health Advocacy. "But people don't want to hear that. All they want to is to make carbs the enemy and be skinny."
Even if only for a little while.
Marshall Brain, founder of howstuffworks.com, started following the Dukan Diet in April 2010. Brain, who tipped the scales at 226 pounds on a five-foot, ten-inch frame, lost 52 pounds. Within six months, he dropped to 174 pounds, losing on average about two pounds a week.
When he started to put more carbs back into his diet, Brain, of Cary, N.C., admits he was a "miserable failure" and packed on about 20 pounds.
But he's not deterred. "For the first time, I feel like I have the tools I need to control my weight," says Brain.
Scientists say approaches like Dukan are simply a "salesman's dream," repackaging the slog of calorie-counting into food elimination. "Studies repeatedly show that the way these diets work is by reducing calories through elimination of certain foods," says David Levitsky, professor of Nutritional Sciences and Psychology at Cornell University.
Over the long haul, six months or more, the rapid weight loss disappears. Adding insult to injury, the evidence is also clear that rapid weight loss will not produce sustained weight loss, says Levitsky.
In other words, even if Kate Middleton is Dukan-ing her pounds away for the royal wedding, by the end of year, odds are she'll gain them back.