Keeping up with Khloe Kardashian will soon be easier: A source says the star, 26, and her bubby, L.A. Laker Lamar Odom, 31, are set to start work on their long-rumored "Newlyweds"-type reality show.
"It shoots in the spring," says an insider. Another source says the series will have the vibe of Bravo's "Bettheny Getting Married": "They're so cute, playing off one another."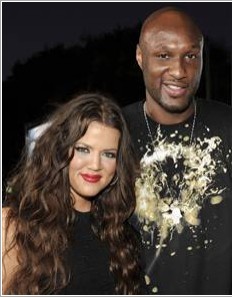 However, viewers will be seeing less of a different member of the Kardashian clan. Though Scott Disick has told pals he and Kourtney Kardashian, 31, won't let son Mason appear on "Kourtney & Kim Take New York" (debuting on E! January 23) because he wants him to have a "normal" life, a source reveals the real reason: Disick, 27, demanded $5,000 an episode for the 12-month-old!
"E! offered $1,000, but he played hardball. E! was like, 'Are you out of your mind?'"
Says another, "He bungled negotiations, so you won't see Mason at all!"