By Antoinette Bueno
Balita Media News Service
ARCADIA – Kiehl's Since 1851, a New York-based brand known for its high quality skin care products, announced the opening of its newest retail store at Westfield Santa Anita mall last Tuesday, February 22nd. The skin care store's launch was also coupled by a $2,500 donation to the Asian Youth Center in San Gabriel (AYC), a community-based organization serving the social and health service needs of youth and families of all ages and ethnicities, with a focus on Asian immigrants.
In addition to a grant of $2,500 in support of the center's programs, Kiehl's will also work with AYC to coordinate a skin care educational workshop for the center's youth.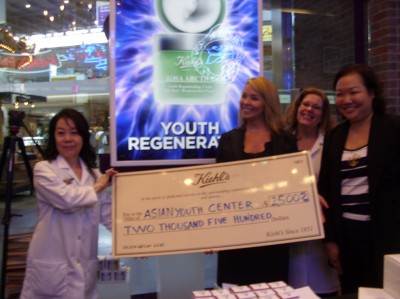 "We are honored to bring our long-standing tradition of quality products and excellence in customer service to the residents of the San Gabriel Valley, and even more excited to be supporting the Asian Youth Center," said Chris Salgardo, president, Kiehl's USA, in a statement.
"Kiehl's commitment to giving back to our communities dates back to Kiehl's very beginnings in New York, and the well-being of all children is a cause very near to our hearts. In our 160th year of service, we're so proud to continue our mission and encourage the development of the youth of the San Gabriel Valley as we open this new store."
Doreen Wong, Executive Director of the Asian Youth Center, was also on hand at the event to receive the check in person.
"Especially now with the economy not so great, there are a lot of kids graduating from college and not getting hired," Wong said.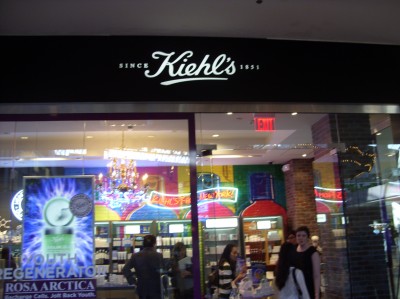 "I know that the workshops Kiehl's will provide will give them that extra confidence to go out there and just feel great about themselves."
The new store mirrors the unique apothecary ambiance found in Kiehl's original location in New York's East Village, and features an interior design that advances Kiehl's longtime commitment to the environment with the use of natural, sustainable materials and energy-efficient light fixtures.
Most importantly, the store is fully stocked with all of the legendary Kiehl's products customers know and love, as well as all of the latest skin care innovations such as the new "Rosa Artica Youth Regenerating Cream" which Kathy Chen, Manager of Kiehl's Westfield Valley Fair, demonstrated at the press conference.
"Kiehl's really specializes in one-on-one customer service, specifically listening to our customer's specific problems and finding the best product for them," Chen stressed.
"Here you will get a free skin care consultation every time."
According to Annie May Stone, Manager at Kiehl's Westfield Santa Anita, the most common skin ailments her Asian clients complain about are dark sports or freckles due to sun damage.
For that she recommends Kiehl's brightening line, which is available now at their Santa Anita location.
This Saturday, February 26, also marks their official Grand Opening, where Kiehl's will have free giveaways and raffles to celebrate their newest store.
For more information on Kiehl's, visit www.kiehls.com. The new store is inside Westfield Santa Anita mall, located at 400 S. Baldwin Ave. in Arcadia, 91007.