By Benjamin Pulta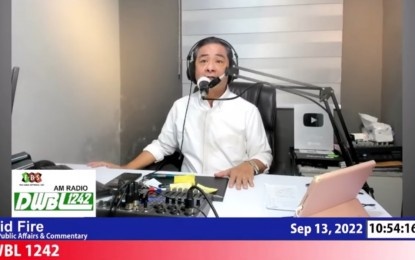 MANILA – The family of slain broadcaster Percival "Percy Lapid" Mabasa on Tuesday said they stand united in their call for swift justice to ensure those responsible for his death be held accountable, a year after the veteran newsman was shot to death by gunmen.
"On this occasion, we remember Ka Percy Lapid whose life was tragically cut short one year ago. The family stand(s) united in our call for swift justice to ensure that those responsible for this loss are held accountable," newsman Roy Mabasa, Percy's sibling said in a statement sent to reporters.
"Let us honor Ka Percy's memory by advocating for a fair and transparent legal process that brings closure to his family and friends. May his legacy serve as a reminder that justice must prevail in our society," he added.
Justice Secretary Jesus Crispin Remulla on Monday said contempt charges await three vloggers (video bloggers) who published online an interview with fugitive former Bureau of Corrections (BuCor) chief Gerald Bantag who is wanted for murder in connection with the killing of Mabasa.
"Siya (Bantag) po ay na interview ng mga ilang vloggers at ngayon po ay aming pinaghahandaan ng complaint ang mga vlogger na nag interview sa kanya for contempt of court. Kasi bawal po yan (He was interviewed by vloggers and we are readying complaints against these vloggers who interviewed him for contempt of court. That is not allowed)," Remulla said in a press briefing at the Department of Justice (DOJ) main office in Manila.
He said the act of these vloggers undermines the courts and the legal processes.The DOJ chief, meanwhile, said law enforcers are validating leads on Bantag's current whereabouts as well as several John Does.
Bantag and former BuCor deputy security officer Ricardo Zulueta are facing murder charges before the Muntinlupa and Las Piñas regional trial courts over last year's killing of Mabasa and Cristito Villamor Palaña (alias Jun Villamor), an inmate at the New Bilibid Prison in Muntinlupa City.
Mabasa was shot by armed men near his home in Las Piñas City on Oct. 3, 2022. Self-confessed gunman Joel Escorial faced the media on Oct. 18, 2022 and admitted his role in the killing. On the same day, Villamor died of "unknown causes" at the NBP Hospital. Villamor allegedly hired Escorial to kill Mabasa. He later died, or was allegedly killed on Bantag's order coursed through Zulueta. (PNA)