By Greg Couch
The thing about Michael Jordan is that nobody really considered him the best player until he learned how to be a teammate. Most talented? Sure.
But not best.
When he did figure out how to work in his teammates, he called them his supporting cast. That's OK. It takes ego to be a champion.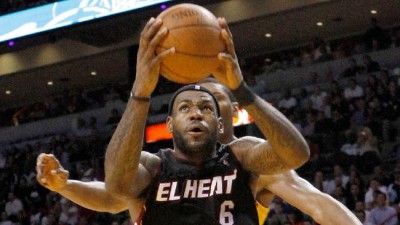 The other thing about Jordan is the legend that at some point, he couldn't make his high school team. By high school, LeBron James was already King, not just of his school hallways, but of the basketball world.
So now, here James is, already having been labeled something before earning it. He even calls himself King. He still has to learn how to be the best, but in the hardest way possible.
From the top down.
I don't think he can do it. I don't think he can allow it. To me, James is not Jordan, but instead an over-glorified Pippen with the wrong hat size. Or crown size.
But it worked with him in Scottie Pippen's role Thursday. Did you see what he did at the end of the Heat's 94-88 victory over the Lakers?
Sure, with about five minutes left, he tried some absurd and flashy drive to the basket, looking as if he were roller skating in, and then flinging the ball up over his shoulder with his left hand. Embarrassing.
But a few minutes later, he stood there with the ball and an open 3-pointer. He didn't shoot. He didn't drive. He waited for Dwyane Wade to get open. Then, he fired a pass inside to Wade for a layup.
James assisted.
That's what he's going to have to do in most of the biggest moments if the Heat are going to win a championship, though Wade is not Jordan, either.
This idea that James can't come through in crunch time is not new.
Remember last year against Boston in the playoffs?
It's a special trick to get a ball to go into a basket under the absolute most pressure, which usually doesn't include anything in the regular season. Whether by skill, bad luck, uncalled fouls or whatever, for some people, the ball goes in and for others it doesn't.
Early on, Tiger Woods was known as a shaky putter, but they always seemed to go when it mattered most and the hole, to everyone else, was at its smallest.
With James, we already know the "what." What he can do: Everything. We know the why, because he has God-given talent and worked his butt off. We just don't know the when. Pippen could be counted on for the first 45 minutes of any game.
The interesting thing Thursday was watching Kobe Bryant, still chasing Jordan after all these years. He is the closest we've seen. But in crunch-time, Bryant took some wild shots, lost the ball on the dribble, and once just dropped it out bounds.
James is trying to learn how to be a teammate. At least, this week he is. On Thursday, the Heat got a little of everything from him. He was the set-up guy and Wade the closer.
Can James live with that? No. There is nothing dishonorable about being No. 2 – Pippen was named one of the 50 best players all of all time – unless everyone has told you that you are King, and you have told everyone the same thing. Even the supporting cast in Miami, overwhelmed by James' image, can't help but to look to him.
But James doesn't know how to play with them.
Here are a few truths: The Cleveland Cavaliers had a better group of teammates for James than the Heat. That's because someone had to do the dirty work, and James had to be King, even though he isn't one. James considered going to Chicago. And if he had, the Bulls wouldn't be as good. Derrick Rose, who is going to win the MVP award, would have been deferring to James.
When James left Cleveland, Jordan thought he was being a soft, or, from what I hear, another word more suitable for locker rooms than here. The idea should be to beat the enemy, not to team up with him. Not only that, but the King went to some other King's land.
This was always Wade's team, and it appeared Thursday that James was willing to consider that possibility. But while it would suit him best, his psyche won't allow it. To James, the shortcoming as King has always been someone else's fault. Coaches, owners, lack of teammates. It's not a sinister thing. Just his nature.
When troubles started early this season, he couldn't exactly blame Wade. So he had his minions leak complaints about the coach, Erik Spoelstra, and his inability to lead. I thought at the time that James was making a power play to get Spoelstra out, and Riley back to the bench as coach. But no, I was wrong. James needs Spoelstra there, or he might be forced to, gulp, look within for blame.
James has tried to be a teammate before. But it never looks right. He passes off and passes off, and he thinks that's all it takes. Critics say that he needs to take charge, and his ego and entourage say so, too, so he goes back to that. When it doesn't work, he goes back again. So James is dysfunctional all by himself.
He did say this to reporters during the Heat's five-game losing streak: "I told my team I'm not going to continue to fail them late in games. I put a lot of the blame on myself.''
It sounds as if James might have looked in the mirror for the first time. Maybe, just maybe, he will realize what's real.
It's a better guess, though, that soon he'll just get a new mirror, and another and another, blaming them all for showing the wrong reflection.