By Charley Rosen
OK, the Lakers claimed that the piece of coal that the Heat presented them with on Christmas Day was due to their lack of focus and their failure to approach the game with an appropriate sense of urgency. And after being publicly berated by both Phil Jackson and Kobe Bryant, as well as a feisty practice session, the Lakers collectively swore that their championship chops were fully restored.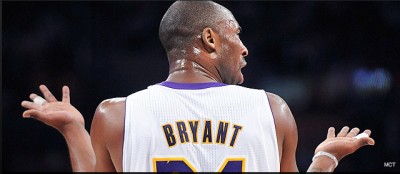 How then to explain another lopsided loss, this one in San Antonio?
Here's how:
Kobe set out to try to win the game single-handedly. He didn't pass the ball until 4:15 of the first quarter – and only after taking seven shots and committing four turnovers. Indeed, in the entire first half, Kobe only threw two passes.
Bryant's solitary accomplishment was to personally flat-line the triangle offense.
For the game Kobe took 27 shots and shared the ball only fifteen times. With only one assist to his credit, most of his passes gained no advantage for L.A. Bryant's off-key imitation of a one-man-band was a major reason why both Pau Gasol (3 of 8 from the field) and Lamar Odom (3 of 9) were prevented from achieving any kind of offensive rhythm.
Of course, much credit must be given to San Antonio's swarming, quick-handed, passing-lane poaching defense that jammed up the Lakers' spacing. Still, the Lakers totaled more turnovers (16) than assists (15). Compare this to the Spurs' 20 assists (on their 37 buckets) as opposed to a mere nine turnovers.
On defense, Kobe frequently wandered toward the ball, thereby enabling some savvy passwork by the Spurs to routinely find his man wide open on a wing.
But Kobe wasn't the only culprit.
The Lakers' transition defense was lazy, permitting the Spurs too many easy shots on the run. The visitors' baseline rotations were either late or non-existent, which is why Tony Parker was able to get to the rim at his pleasure. In particular, Andrew Bynum continued his habitual defensive shortcomings by making all-out commitments to show himself on every ball-penetration to the extent that he was unable to recover in time to prevent drop-off passes into San Antonio's bigs.
Along this same line, the Lakers constantly overreacted whenever one of the hometown heroes drove the ball into the lane. Consequently, just about every kick-out pass located an unattended shooter.
The under-sized but powerful DeJuan Blair (17 points, 15 rebounds) attacked the basket as though he was eight-feet tall and Gasol and Odom were made of straw.
Moreover, Bynum is a disaster at the stripe (2 of 8). Ron Artest was MIA – most likely still basking in the glow of his first NBA championship.
The only positive that L.A. can glean from this game was the play of their bench in the second quarter. Shannon Brown, Steve Blake, Bynum and Matt Barnes, along with Odom, executed the triangle to near perfection and managed to erase a 10-point deficit. Unfortunately for the defending champs, the Spurs' defense dominated the Lakers' second unit after the intermission.
So, then, what are the Lakers left with?
Another three-game losing streak with the distinct possibility of still another bummer on tap in New Orleans. A total absence of team play. A loss of poise, confidence, toughness and the aura of invincibility exhibited by virtually all defending double-champs. Kobe's relapse into his youthful selfishness. The likelihood that every future opponent will also plan on bullying Gasol and Odom for profit.
Above all, the Lakers are now feeling a sense of desperation.
Yes, there's a long road to travel between here and there. And it's certainly better to suffer the basketball-blues now rather than then. But for the Lakers to three-peat, it'll take more than public scoldings and bold assurances that the team will locate their "A-game" sooner rather than later.
What will be required is a total commitment to hard work and harmony. At this point in the season, with 31 games already in the book, whether or not the Lakers can recapture the rapture is nothing more than a tossup.