The third and final film in director Todd Phillips'
record-shattering comedy trilogy opens May 23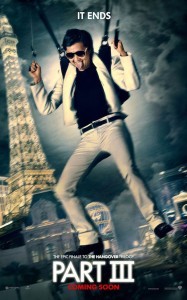 Korean American actor Ken Jeong returns in THE HANGOVER PART III, the third and final film in director Todd Phillips' record-shattering comedy trilogy.  Jeong reunites with stars Bradley Cooper, Ed Helms, Zach Galifianakis and Justin Bartha for the epic conclusion to an incomparable odyssey of mayhem and bad decisions, in which the guys must finish what they started by going back to where it all began: Las Vegas."The Hangover Part III" opens May 23, 2013.
Two years have passed since "The Hangover Part II" and Phil (Bradley Cooper), Stu (Ed Helms) and Doug (Justin Bartha) are happily living uneventful lives at home. Tattoos have been lasered off, files purged. The last they heard from disaster-magnet Leslie Chow (Ken Jeong), he'd been tossed into a Thai prison and, with him out of the way, the guys have very nearly recovered from their nights prowling the seamy side of Las Vegas in a roofie'd haze, and being kidnapped, shot at, and chased by drug-dealing mobsters in Bangkok.
The only member of the Wolfpack who's not content is Alan (Zach Galifianakis). Still lacking a sense of purpose, the group's black sheep has ditched his meds and given in to his natural impulses in a big way—which, for Alan, means no boundaries, no filters and no judgment—until a personal crisis forces him to finally seek the help he needs.
About the production
In 2009, writer/director Todd Phillips threw a bachelor party the likes of which had never been seen before, and invited the whole world to bond with a group of guys now universally known as the Wolfpack. In 2011, he raised the stakes to show us how far they could be pushed without completely losing it.
By asking—and then answering—the diabolically simple question, What could go wrong?, both "The Hangover" and "The Hangover Part II" not only shattered boundaries and box office records, entertaining millions around the globe, but made an indelible mark on pop culture.
"Bottom line: the amount of funny that comes out of these movies is unbelievable," attests Ken Jeong, returning as bad-luck charm Chow. "And this one answers all the questions. You want to know what happened to Chow? You'll get that answer, real quick, and in spectacular fashion."
Ken Jeong first came aboard as Chow in "The Hangover," and his uninhibited portrayal helped develop the supporting role into something vastly more significant, to the delight of fans around the world.
Says Jeong, "Chow is like a squib, a little cap that explodes and makes a mess everywhere. You never know if he has a trace of fear in his heart or not, because that tiny bit of vulnerability he exposes might just be a trick to draw you in. In this film we see him, for the first time, in a seriously compromised position and it's possible that, like Alan, he's finally exploring the consequences of his actions. Or, knowing Chow, maybe not."
Not to get too highfalutin' about it, but if you look at Greek drama there were humans and gods, and the gods weren't always nice," offers screenwriter Craig Mazin. "Sometimes they were terrible. They would insert themselves into the lives of humans and they were immortal so you couldn't kill them, you couldn't stop them, and they would just do whatever they wanted and disrupt things for everyone. That's Chow. He's a force of nature. He's the god of mayhem."
About Ken Jeong
Jeong earned his undergraduate degree at Duke University and went on to attain his medical degree at the University of North Carolina. Jeong completed his Internal Medicine residence in New Orleans, all the while developing his comedy. In 1995, he won the Big Easy Laff Off. The competition, judged by former NBC President Brandon Tartikoff and Improv founder Bud Friedman, turned out to be his big break as Tartikoff and Friedman urged him to head to Los Angeles.
Jeong began performing regularly at the Improv and Laugh Factory, and was seen on a number of television shows, including "The Office," "Entourage" and "MADtv." It wasn't until his pivotal role as Dr. Kuni in "Knocked Up," though, that Jeong solidified himself as a feature film comedian.