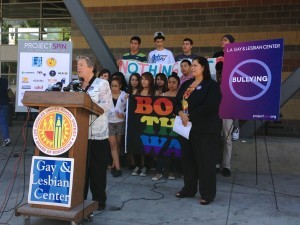 LOS ANGELES, October 17, 2012–The world's largest lesbian, gay, bisexual and transgender (LGBT) organization and the nation's second-largest school district have joined forces to prevent youth suicides, combat bullying, and make life better for lesbian, gay, bisexual and transgender (LGBT) students. At a press conference today, the L.A. Gay & Lesbian Center and the Los Angeles Unified School District (LAUSD) announced a joint initiative—a project that has united an unprecedented coalition of community partners—that is making LAUSD schools safe and welcoming for LGBT students. 
At the press conference, Center CEO Lorri L. Jean and LAUSD Board of Education President Monica Garcia spoke about how the importance of Project SPIN (Suicide Prevention Intervention Now), the largest initiative of its kind with more than 20 partnering agencies.
"For too many young LGBT people, the ringing of the school bell connotes suffering instead of learning," Jean said. "Many feel they must hide who they are, while others face merciless harassment and bullying—even violence—on the playground, in the classroom and in the locker room. By collaborating with LAUSD, which includes 1,160 schools and more than 664,000 students, we're working to change the often intolerant, bullying culture of schools so that all kids feel safe."
The need for Project SPIN is clear. Suicide is the third-leading cause of death for people ages 12 to 18, and young LGBT people attempt suicide at rates much higher than that of their peers.
"We are committed to creating safe, respectful campuses for LGBT students–and that is exactly what we are doing with Project SPIN," Garcia said.   
Bullying, which is widely associated with LGBT youth suicides, can contribute to young people feeling depressed or isolated. However, other factors, such as being rejected by family, play just as significant a role. That's why SPIN's work includes not only students themselves but also teachers, administrators and parents. One of the most important components of SPIN is its training sessions (in English and Spanish) for these groups.
Supported by experts from many of the partnering organizations, SPIN trains and educates people on issues ranging from LGBT sensitivity and awareness to suicide prevention and much more. Each training is tailored to the specific needs of its audience.
For example, administrators receive training on topics like making schools safer for LGBT students. Teachers working to develop lesson plans about notable LGBT people in history might request SPIN training to learn about useful resources. Parents, who often request trainings after they hear about youth suicides at their children's schools, can get training on what to do if their child is being bullied or if he or she is bullying others.
Students, too, turn to SPIN to learn how to make a difference. LGBT students and their allies frequently request trainings for their Gay-Straight Alliances (GSAs) or other LGBT groups. These trainings educate them about what they can do if they feel depressed or suicidal, or if someone they know needs help. It's vital they understand that suicide is not a logical consequence of bullying and that there are resources for help. For LAUSD students, those resources include counseling and a crisis hotline.
With their newfound knowledge and heightened awareness, thegraduates of these sessions have the tools they need to make a difference. Parents can better understand and support their LGBT children, or address the behavior of a child who is bullying others; school staff can make classrooms more accepting of LGBT students; and students facing bullying or fighting depression can find the help they need. Working together, these groups will truly change the culture of schools and make life better —not just for LGBT youth but for all LAUSD students.
SPIN community partners include: Trans Youth Family Allies; Children's Hospital Los Angeles, Division of Adolescent Medicine; Los Angeles County Office of Education; Los Angeles County Department of Mental Health; Gay-Straight Alliance Network; Gays and Lesbians Initiating Dialogue for Equality (GLIDE); Los Angeles Police Department; Didi Hirsch Mental Health Services; The Trevor Project; ACLU of Southern California; Parents, Families and Friends of Lesbians and Gays (PFLAG); Our Family Coalition; Colors LGBTQ Counseling Center; Gay, Lesbian and Straight Education Network (GLSEN); Latino Equality Alliance; The Village Family Services; and Teen Line; MALDEF; the United American Indian Involvement (UAII); and Project 10.
To learn more about Project SPIN, or to request training, visit projectspin.org.
 For LAUSD's brochure on bullying, go to humanrelations.lausd.net.  
 About the L.A. Gay & Lesbian Center 
For more than 40 years, the L.A. Gay & Lesbian Center has been building the health, advocating for the rights and enriching the lives of lesbian, gay, bisexual and transgender people. Our wide array of services and programs includes: free HIV/AIDS care and medications for those most in need; housing, food, clothing and support for homeless LGBT youth; low-cost counseling and addiction-recovery services; essential services for LGBT-parented families and seniors; legal services; health education and HIV prevention programs; transgender services; cultural arts and much more. Visit us on the web at: lagaycenter.org.