In celebration of the Asian Pacific American Heritage month, LA City Attorney Mike Feuer hosted a community forum with California Chief Justice Tani Gorre Cantil-Sakauye at the Deaton Auditorium last week.
Chief Justice Tani Gorre Cantil-Sakauye is a Filipino-American we take pride on. She is the 28th Chief Justice of California nominated by former Governor Arnold Schwarzenegger for California's highest judicial office on July 22, 2010 and she was retained in office by California voters on November 2, 2010.and subsequently sworn in on January 3, 2011.
A California native, she was born in Sacramento as Tani Gorre Cantil, whose Hawaiian-born father, Clarence was of Filipino and Portuguese ancestry while her mother, Mary Gorre was Filipino. She was raised in the Land Park area of Sacramento and graduated high school from C. K. McClatchy HIgh School in 1977,  Further, Tani went on to pursue her Associate of Arts from Sacramento City College and In 1978 she obtained her Bachelor of Arts degree from UC Davis, where she also received her JD (degree in Jurisprudence)  in 1984.
Tani Gorre Cantil's legal career began later on the same year when she was invited by then Deputy District Attorney Rusell Hom (who later on became Sacramento County Superior Court Judge) to become Deputy District Attorney. In 1988, she left the DA's office to become Deputy Legal Affairs Secretary to Governor George Deukmejian, who later on appointed her as Deputy Legislative Secretary.and in 1990, Deukmejian appointed her again as Judge of the Sacramento Municipal Court.
In 1994 Tani Gorre Cantil married Mark Sakauye, a retired Sacramento police lieutenant, and they have two daughters. According to her uncle, Victor Gorre, her mother's family is closely related to the former publisher and Editor of LA's Philippine American News, Efren and Roy Gorre.
Tani Cantil-Sakauye left the Municipal Court when Governor Pete Wilson appointed her as Judge of the Sacramento County Superior Court and in 2005, Governor Arnold Swarzenegger appointed her as an Associate Justice of the California Third District Court of Appeals and on July 21, 2010 Swarzenegger nominated her to succeed retiring Chief Justice of California Ronald M. George.
On August 25, 2010 the three-member California Commission on Judicial Appointments unanimously approved her nomination as the next Chief Justice of California and during the November 2010 general elections she was retained as Chief Justice for a 12-year term.
During the forum, the Chief Justice stressed the importance of oral advocacy in the courtrooms. and that her office always pursues larger funding for the Judicial Branch in order to "elevate those who are eligible candidates for Superior Court positions during general elections."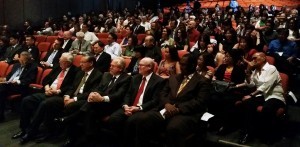 Further, Tani Cantil-Sakauye says "I am always inspired by my team of judges who all work together to handle case overloads handed  them; Judges are public servants who dedicate themselves to public service."  She encourages outreach and volunteer programs in the courts and is a staunch supporter of Affirmative Action programs.
Finally, Deputy LA City Attorney Donna Wong, moderated the award ceremonies along with LA City Attorney Mike Feuer and Chief Justice Tani Cantil- Sakauye in presenting a certificate of recognition to her friend and colleague, Deputy City Attorney Kenneth T Fong, as this year's "Asian Pacific American Attorney of the Year."